Family-friendly trips (trains)
Family holidays should be fun, adventurous and a time of bonding and exploring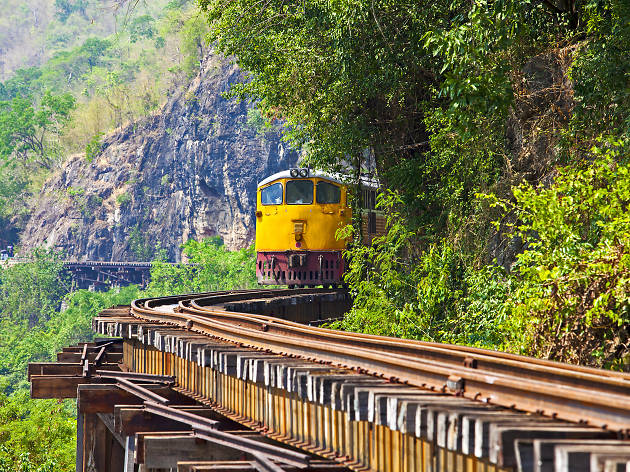 By

Time Out Malaysia Kids
|
Now that everyone can fly, why not get a little adventurous and hit the rails instead? A good introduction to the joys of train travel would be to start in Kuala Lumpur and end up in Bangkok. The train ride takes about one and a half days, and is a straightforward trip to take with the kids.
One of the most interesting things (and a great history lesson) about this trip is that it passes over the Bridge on the River Kwai, which is in the Kanchanaburi province. Constructed by Japan during WWII, this infamous part of the railways was built to connect Thailand and Myanmar, and was part of a plan to transport cargo to India, which was on Japan's agenda to attack. POWs and Asian slave labourers worked endlessly for one year in terrible conditions and it's said that for every sleeper laid, one life was lost.
How to get there
The first leg of the journey is from KL Sentral to Padang Besar in Perlis. At Padang Besar, you need to alight for immigration and customs clearance – both the Malaysian and Thai immigration counters are conveniently located in the same building. From here, catch SRT's (State Railway of Thailand) International Express to Hat Yai, and change trains for the final stretch to Bangkok's Hualamphong Station. There are five trains to Bangkok with the (deceivingly named) Rapid service taking 18 hours and the Special Express taking 13.5 hours. We suggest getting a first class aircond sleeper and reserve the whole cabin for the family. The kids will get a kick watching the steward convert the seats into beds come sunset.
What to do
Bustling Bangkok is one of the great metropolises of the world and is chaotic, but worth bringing the kids to. Go temple hopping, cruise the Chao Phraya River, peruse the night markets, eat as much Thai food as you can, and take a day trip to see the famed floating markets. You can also get off the train at Hua Hin, a seaside town renowned for being the summer residence of the Thai royal family. There's a good selection of family-friendly resorts here, alongside impressive golf courses. The Hua Hin railway station is one of the oldest in Thailand with an adjacent wooden structure, which was once the Royal Waiting Room. Spend a few days here and catch the train either to Bangkok or back to Hat Yai on your way home.