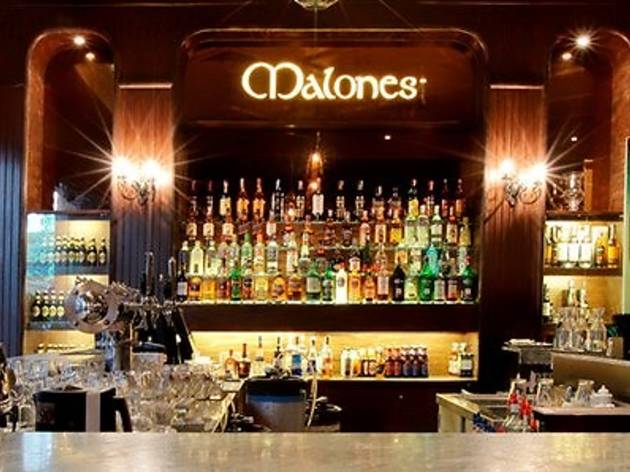 The new Malones isn't pretty – it's rather solid and large. 'Handsome' would describe it and 'pleasing' would as well, due to the warming colour scheme of green, brown and maroon. Its dining area is so spacious that it could probably warrant its own postcode. Pubs claiming to be 'Irish' in this city have an iffy relationship with anything even remotely close to what can be seen as authentically Irish – Malones isn't any different but it plays to the current aesthetic of the gastropub trend. For all its posturing, it's a restaurant posing as a pub, not a pub with a restaurant.
Its modern British menu isn't a revelation either; it's the last ten years of British food in one tidy list. Cue the bread-and-butter puddings, fish and chips, and colcannon mash. Its saving grace is (no surprise) the boozing atmosphere. It's a joint where pints (of Guinness, natch) will flow freely and late into the night. Boozehounds could do worse.
At the moment it needs a bit of living in: the walls are too pristine, the ceilings too perfect, the floor too shiny. However, the scuffs and smudges will come in time, courtesy of the steady stream of punters that flow from the central train station. Syazlynia Rahim
Other outlets are located at KLCC, The Curve and Sooka Sentral.
Venue name:
Malones Pavilion
Contact:
Address:
Level 3, Pavilion 168 Jalan Bukit Bintang 55100
Kuala Lumpur


Opening hours:
Mon-Thu & Sun, 10am-1am; Fri-Sat & eve of public holidays, 10am-2am