Contest: Win tickets to Future Music Festival Asia 2015
As much as we are sad to see Future Music Festival Asia (FMFA) leave KL and set up its new home in Singapore's Changi Exhibition Centre, we can't...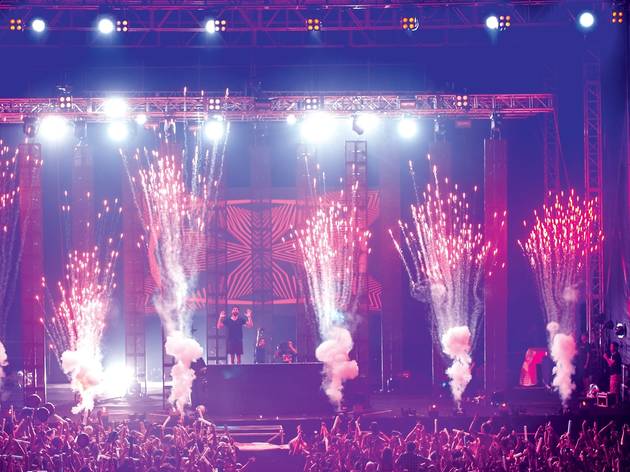 As much as we are sad to see Future Music Festival Asia (FMFA) leave KL and set up its new home in Singapore's Changi Exhibition Centre, we can't help but get excited over its stellar lineup. FMFA has become the region's go-to festival for dance and electronic music; the two-day festival (which attracted 55,000 people from over 85 countries last year) will feature a host of acts performing across three stages. This year, the organiser is upping the ante by roping in renowned stage designer James Klein to assemble the multi-storey main stage, dubbed the Supernova. Here are the three headliners you just cannot afford to miss:

Avicii
EDM boy wonder Avicii's stock continues to power on in the world electronic music stakes. With highly anticipated sophomore album 'Stories' set to be released soon and single 'The Days' (a collaboration with Robbie Williams) heating up the airwaves, the Swede is growing to be one of the biggest names in the genre. Expect an explosive set featuring a mixture of new material and tracks from his hit debut 'True'.

Fatboy Slim
Norman Cook's star may have faded a little since the '90s but there's no denying he has tremendous pedigree. The man is literally responsible for pioneering arena dance music so if you are looking for someone to kick a huge festival into gear, you can't do any better than Fatboy Slim. With an almost sinful discography of music to choose from, expect smash hits such as 'Praise You' and 'Right Here, Right Now' to be part of his repertoire.

Giorgio Moroder
'74 Is The New 24' is the title of Italian electronic music guru/legend Moroder's latest and first record in nearly 30 years, and we are inclined to believe him. Don't let his age fool you, this is a man responsible for some of the most progressive music of the last four decades. As his recent work with Daft Punk has shown, age has hardly dulled his appetite for progressive music and his latest record continues to push the boundaries of electronic music. With popular-culture-shaping work on movies such as 'Flashdance' and 'Top Gun', as well as working with the likes of Blondie and Freddie Mercury, you owe it to yourself to catch this legend in action.

As a special treat for our readers, we're giving away a pair of two-day passes to a lucky few. Answer the questions below to enter by Friday, March 6 2015.

Future Music Festival Asia 2015 happens at Changi Exhibition Centre, Singapore. Mar 13-14, 5pm onwards (www.futuremusicfestival.asia).
Terms and conditions
1. This contest is organised by Time Out KL (hereinafter referred to as the 'Organiser').
2. The prizes for this contest are neither exchangeable for cash nor transferable.
3. All persons ('Contestants') taking part in this contest agree that these rules shall be binding on them, and that the entries in this contest, including their name and likeness, may be used without restriction in any future publicity material by the Organiser.
4. The Organiser reserves the right to amend these rules or terminate the contest at any time at its sole and absolute discretion. All decisions made by the Organiser under these rules shall be final and no discussion or correspondence will be entertained. The Organiser may, but is not required to, justify any decisions relating to this contest.
5. The Contestant acknowledges that the interest and good reputation of the Organiser is of paramount importance. The Organiser reserves the right to disqualify a Contestant from the contest, or to withdraw the prize if it believes the Contestant is in breach of its obligations under the rules. The Contestant shall not by act or omission, directly or indirectly bring the Organiser into disrepute.

6. All entries are sent at the risk of the Contestant and in the event that there are technical difficulties experienced arising out of the internet or from any associated equipment or internet security is compromised, the Organiser may at its sole and absolute discretion disqualify the entire entry and shall not accept any liability doing so.
7. Contest entries may only be submitted via the stated medium of communication.

8. This contest is open to anyone above 18 years old and contestants under 18 years old are prohibited from entering this contest.

9. Each entry must be completed in full. The Organiser reserves the right to disqualify any incomplete entries in its sole and absolute discretion.

10. Contestants shall only submit one entry and multiple entries of the same shall be treated as 'spam' and shall be ignored.

11. Incomplete entries will be deemed void.

12. Entries will be judged by Time Out KL solely on the correctness of the answer(s) furnished and accuracy of personal details furnished with the judges' decision as final.
13. Winners will be informed by email.

14. Uses of 'aliases' shall be considered a form of deception and is prohibited.

15. The winner must produce their original IC / passport with legible IC / passport number in order to claim the prize. The winner may also be required to produce additional original proof of identity at the discretion of the Organiser.

16. All Prizes are accepted entirely at the risk of the winner, and the Organiser excludes all warranties in connection with the prize to the extent permitted by law.
17. All Contestants release from, and indemnify the Organiser, its agencies, sponsors and representatives against, all liability, cost, loss or expense arising out of acceptance of any prize or participation in the contest including (but not limited to) personal injury and damage to property and whether direct or consequential, foreseeable, due to some negligent act or omission or otherwise.
18. All personal particulars furnished are meant for identification purposes and will not be sold or given to any third parties.
19. Prizes will be forfeited if not collected within the time frame stated after the announcement of winners.