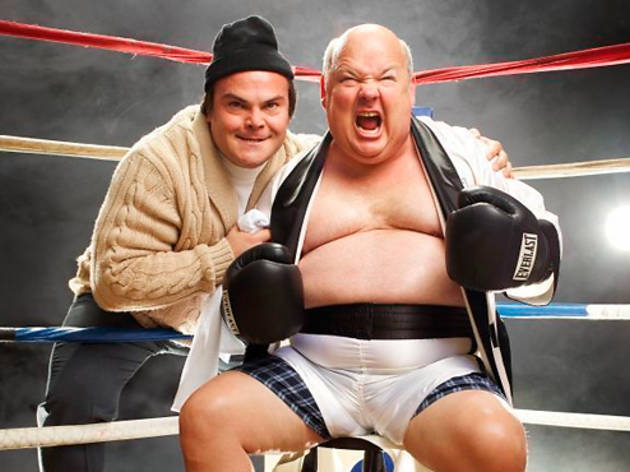 Tenacious D interview
'Everyone loves some D'
Everything is better with the D – that's Tenacious D, also known as The Greatest Band in the World. They're biting, blasphemous, and bursting with jams and jokes. This December, the duo consisting of Jack Black and Kyle Gass will be making their way to Malaysia for the first time.

We caught your interview with Jimmy Kimmel where you discussed your upcoming first Asian tour – and that bit where you said 'No one's going to know what we're saying [in Malaysia] anyway, who cares?'
Jack Black: Uh oh.
Kyle Gass: You weren't supposed to see that.

No, but we've got YouTube over here.
JB: Okay, well then, we're sorry!
KG: Is English the official language of Malaysia?

Well, no. That would be Bahasa Malaysia, but English is widely spoken and understood here.
JB: That's fantastic. That means you're going to be ready for us.

Will you be toning down your material?
JB: We're not going to be censoring ourselves in any way; we were told that we didn't have to worry about that.

So, what can we expect from your show?
JB: Nothing less than the finest rock 'n' roll.
KG: I have a feeling we're going to be the best live rock show you're likely to see all this year.
JB: Every time we go on a tour, whenever we play live, I always feel like we are The Greatest Band on Earth. We're going to be the greatest rock band Malaysia has ever seen, except, well, have The Beatles ever played in Malaysia?

No.
JB: Okay, well, then this should be a special treat for you. We'll play a Beatles cover to give you a flavour of what you might have missed. You're welcome.

Thank you.
JB: If you're asking 'What can we expect from Tenacious D?', just expect us to be like The Beatles, minus the screaming women in the audience.

Back to your music: You release an album every five or six years. It's been two-and-a-half years since your last album. Is a fourth album in the works yet?
KG: Yes, according to our schedule, we're only five years away.

Do you think you'll ever make non-comedy music?
JB: Well, we never approach any of our songs as comedy songs. We always just write the best songs we can, and it usually ends up being funny – that's just who we are – but I think all of our songs have a serious edge to them. Before we listened to your music, we thought you were a hip hop act. After we listened to your music, we thought you were like a hip hop act in the sense that, well, you sing about intercourse and your genitals a lot.
KG: We are very sexy.
JB: I don't know if we sing about genitals a lot. Do you mean penises?

Yes.
JB: I don't think we've ever… oh, yeah, we have that one with the cock push-ups. We do have vaginas in our albums; there's one in the artwork of 'Rize of the Fenix'.
KG: Yeah, but she said we remind her of hip hop artists.
JB: There is a similarity between us and some of the finer hip hop artists, in that rappers just rap about exactly what they want to say. We also sing about exactly what we're singing about, we don't do a lot of, uh…
KG: Metaphors?
JB: Yes, thank you. We weren't trying to fool people into thinking we were a rap act; we just thought it would be funny to be called 'Tenacious D'. It's an inside joke for, you know, people in the United States. I don't even think it's a very good name for a band, to be honest, but it's too late now.

There's a track titled 'Rock is Dead' from 'Rize of the Fenix'. Is rock really dead?
JB: It's definitely seen better days. You look around, and you ask, who's the Led Zeppelin of our time, who are The Who, The Beatles, the Stones of our time? I would say that the song 'Rock is Dead' is more of a warning, a call to arms.

What about yourself?
KG: You're right, we're the last of the Mohicans.

'The Ballad of Hollywood Jack and The Rage Kage' is about two friends, one named Jack who hit the big time acting in films, and the other guy gets jealous. Is it autobiographical?
KG: Of course, every word is true.

So, are you guys getting along better now?
JB: Yeah, we're in a very good place right now.

You're like an old married couple.
KG: I've never been married, but I'm imagining what it's like: Sometimes Jack snores, and I get to poke him.

It's been 20 years since your first gig. Do you think your fans have grown up with you, or that you still appeal to those us who like fart jokes and live with our parents?
KG: Everyone loves us. Everyone loves some D.