That's not my name: The Venopian Solitude
Indie-folk prospect The Venopian Solitude remains draped in obscurity, and she prefers it that way. By Wong Boon Ken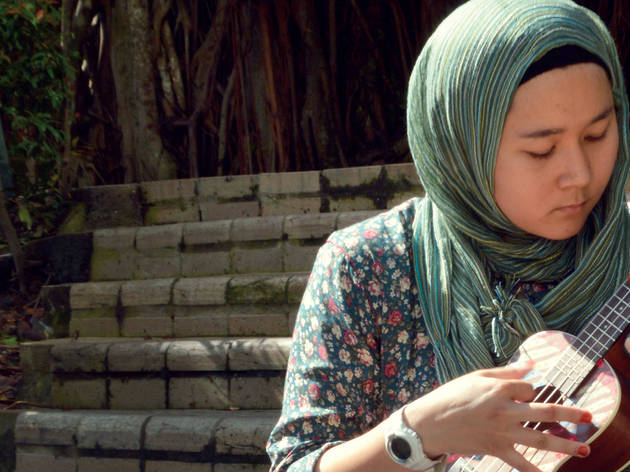 In this Lana Del Rey age of instant celebrity and false mystique, it's intriguing to find musicians who retain a genuine interest in staying relatively anonymous. Daft Punk went from wearing nondescript masks during the 'Homework' days to donning futuristic robot outfits in the 'Discovery' era, all in the name of focusing more on the music and less on the personalities. Thomas Bangalter and Guy-Manuel de Homem-Christo have no qualms about divulging their identities as long as the faces are hidden from view. For local singer-songwriter Suiko Takahara, the opposite is true.

The artist known as The Venopian Solitude believes a pseudonym on top of a moniker is the way to go, a theory that seems peculiar when she appears in most of her 110 (and counting) bedroom YouTube recordings without any form of guise. 'They cannot sue my face,' she reasons emphatically, oblivious to how outlandish she sounds. The irreverent Shah Alam-based 23-year-old is decidedly not your average fame-seeking YouTube musician, especially with her '1984'-level of paranoia, penchant for self-depreciating humour and propensity to ramble.

'Only people whom I like and am close to can know my real name,' adds the enigmatic Takahara, who has no intention of pursuing a career in music. The fact she snagged the inaugural Wknd Recording Fund in April, edging out 24 other local talents and receiving recording, production and marketing aid from the regional music website for a single release in the process, isn't going to change her mind anytime soon either. 'The Wknd people were just being nice,' she laughs, 'and maybe crazy.'

Takahara is certainly wrong about one thing – there's nothing polite and insane about appreciating her eclectic brand of acoustic indie-folk, which she flatly describes as 'annoying' and 'noisy'. Within her Bandcamp page is a sizeable catalogue of low quality DIY recordings with hand-drawn cover art dating back to late 2009 that range from the whacky (trilingual rap number 'The Rojak Uta 2: Stampede') to the ghostly (Laura Marling-esque 'Mirror'). To make sense of The Venopian Solitude aurally, it seems, is to take a tour through her major musical influences, where hints of Regina Spektor's quirky lip-buzzing and vocal inflections are meshed with occasional confrontational shrieks a la Kimya Dawson of The Moldy Peaches fame.

If The Venopian Solitude's rough-around- the-edges material feels at times like an uneven emotional rollercoaster ride through a tumultuous youth, it's because it is. 'My YouTube channel is like a diary I started after I got tired of blogging when I was 17,' shares Takahara, who suffered from depression whilst pursuing a diploma in electronic engineering in Japan. Having returned to Malaysia in March, she's taking a gap year before inexplicably beginning a new chapter of tertiary education in geology, but don't expect the prolific songwriting to stop. 'Music will always be my therapy, so whenever I'm stressed, there's bound to be new songs.'

For the foreseeable future, Takahara's YouTube channel and Bandcamp page will be the only available avenues to listen to the latest guitar- and ukulele-driven tunes from one of KL's rawest new talents. 'I plan to perform in public, but my mum doesn't allow me to go out late at night,' she says sheepishly. Her only brushes with a live gig so far have been a slot at The Bee, Jaya One's Feedback Open Mic Night and a busking debut during April's Layan Fest at KLPac. Unperturbed and typically indifferent, the self-proclaimed loner ('I perform solo sadly because I've no friends') is in no rush to fulfil any dreams of superstardom. 'Why would music be a goal? It's like a routine; I wake up, make music, eat and go back to sleep. I actually prefer sleeping to music,' suggests Takahara. 'If I say "music is my life", that's bullshit lah.'

She does, however, aim to continue busking sans instruments, possibly on an LRT or KTM carriage, so 'the police can't confiscate anything'. 'The aim is to annoy,' smiles Takahara mischievously. The irony is that, with her thoughtful lyrics and unconventional melodies, she's more likely to fascinate than grate.

Visit thevenopiansolitude.bandcamp.com and www.youtube.com/user/takaharasuiko for more of The Venopian Solitude's music.
See more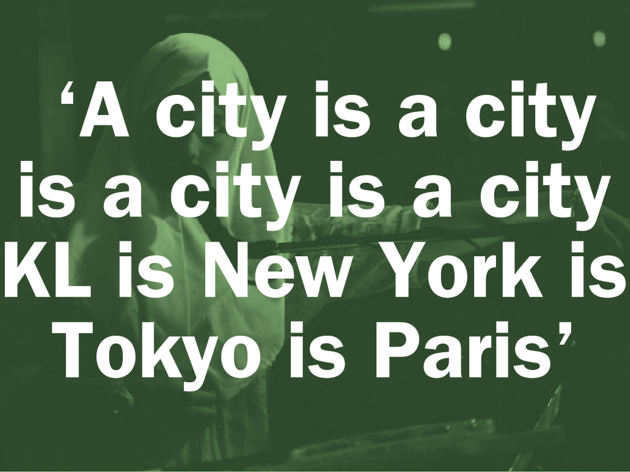 ICYMI, Malaysia's very own experimental electro-pop singer-songwriter The Venopian Solitude – aka Takahara Suiko of 'Tenangkan Bontot Anda' fame – has been invited to attend the reputable Red Bull Music Academy.