If you ever thought art is supposed to be a serious affair relegated to the quiet halls of a gallery or museum, an outdoor visual arts project brightening up our city is here to challenge that notion.
Art In The City (AITC) is a campaign that was designed to bring art to the public and make it more accessible for everyone. A collaboration between CENDANA (Cultural Economy Development Agency), the Ministry of Federal Territories and DBKL, AITC is a platform that aims to promote and increase awareness of our local arts and culture scene, to encourage the public to visit art galleries and museums, and to strengthen our city's position as a cultural and creative hub.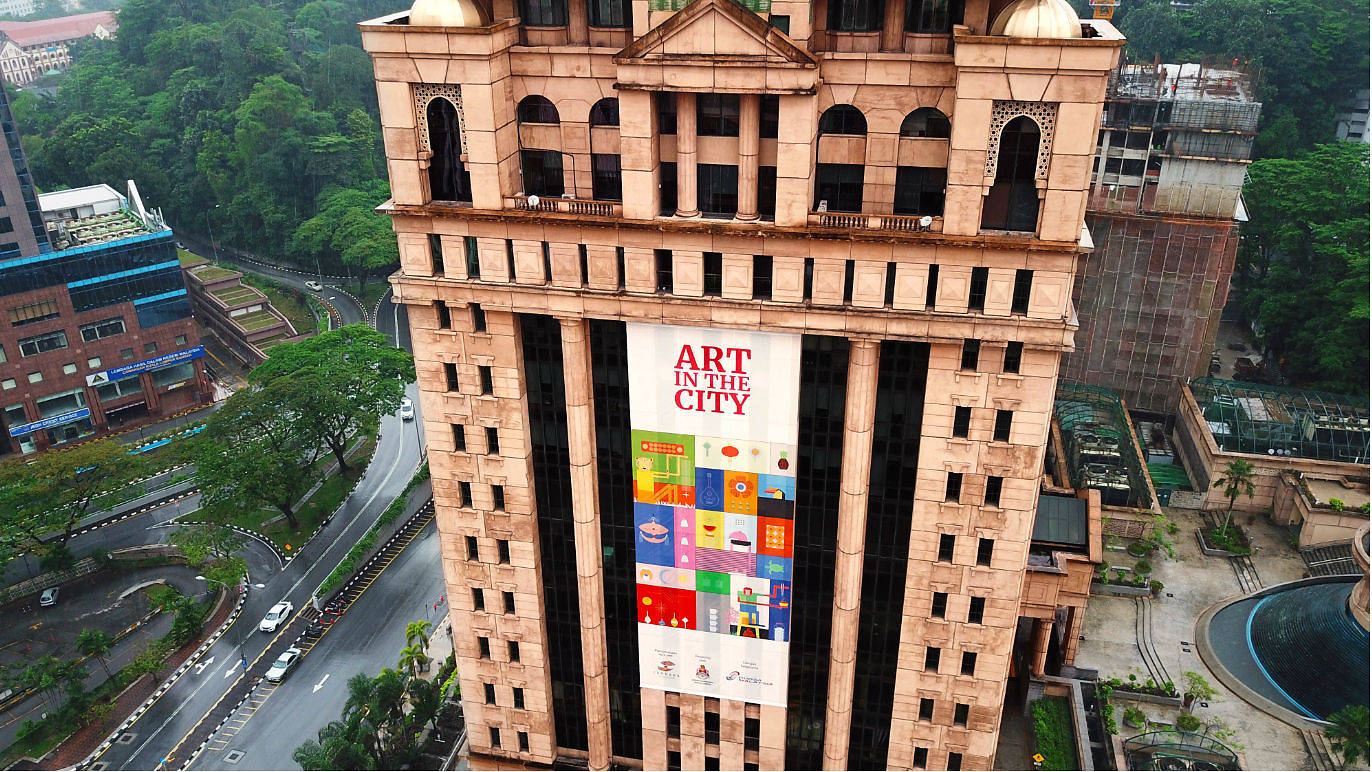 'Culture Syok!' by Brindha Kumar on the Bursa Malaysia Berhad building. Photo: CENDANA
AITC features 14 artworks by renowned Malaysian artists and local grassroots talents, displayed on prominent landmarks (like the National Art Gallery, Lot 10, KL Citywalk and more) or digital billboards around the city.
The list of featured artists include familiar names like Dato' Mohd Hoessein Enas (the Father of Malaysian Portrait Painting), Kok Yew Puah and Datuk Ibrahim Hussein, alongside emerging talents like Suzi Chua, Art:tech, Natasha Iman and Brindha Kumar. Each piece may highlight different artistic styles, but they are all representative of parts of our Malaysian culture and our country.

'Simpodium City' by Nor Aziela binti Ahmad. Photo: CENDANA
Art in the City began in January 2018 when the call was put out for local artists to submit works that would contribute to the visual imagery of KL. Over 1,000 submissions were received, a number that was narrowed down to 30 after being reviewed by art scholars and experts. The shortlist was then open to the public to vote, and the artworks that received the most public votes are now being displayed across the city for up to six months.
It's not just about displaying artworks on buildings with AITC; as the campaign was designed to encourage the public to immerse themselves in the arts, AITC also includes monthly performing arts performances (in collaboration with PUSAKA), art workshops and a pop-up visual arts fair scheduled for the first quarter of 2019. Plus, there are also additional collaborations with DBKL to beautify the streets of KL with murals and graffiti.

'Camera View Of A Group Of Small Children Laughing' by Kok Yew Puah; 'School Children' by Dato' Mohd Hoessein Enas; 'Silent Unity' by Syamsul Addenno at Permodalan Nasional Berhad. Photo: CENDANA
So, the next time you're taking a walk around KL, keep an eye out for these artworks and pop into one of the many art galleries or museums we have scattered around our city.
For the full list of artworks and to download a copy of the map to Art In The City, click here.