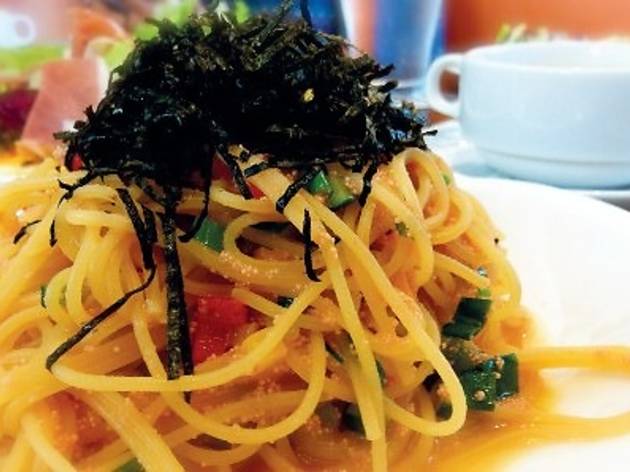 September 2012
Tucked away in a quiet nook of Plaza Damas' bustling food street, Bistro Fiore is a throwback to the once-popular trend of little eateries that were blessed with a surfeit of charm and were concurrently intimate and inexplicably nostalgic. Here, the hubbub of the noisy cafés outside is silenced and a menu – colourful, kitsch, poorly photographed – proffers an exhaustive array of Italian staples tinged with Japanese influences and elements.
The mentaiko pasta topped with shredded crispy seaweed is a house speciality and while Fiore cannot be accused of being parsimonious in their use of mentaiko, the combination of cucumber and pepper cubes detracts from the integrity of the original recipe, although the chef's intention of contrasting the richness of the mentaiko and cream sauce with the crunch of the vegetables is obvious. Because pork is happily, and abundantly, served here, the carbonara (rich, creamy, porky) and bacon, mushroom and tomato (aromatic, competent, tasty) sauces will make more than a few pork lovers happy.
Lunchtimes are exclusively for set meals, all reasonably priced, but for a more extensive – and imaginative – menu, dinner is a better option. Apart from the bog standard (thick crust) pizza flavour combinations, there are some with rather more unorthodox pairings like sausage with potato and mayonnaise, and even chicken with capers.
If you're happy to eschew the pizza and pasta route, you may find yourself rewarded for your courage. Beef short ribs are paired with a Japanese tomato sauce, chicken is stewed with a lemon cream sauce, while shrimp and scallops baked with garlic mayonnaise will appeal to those with a pronounced affection for creamy food.
Veering perilously close to the Hong Kong Kim Gary style of 'western' cooking, the tomato chicken rice in casserole, hashed beef rice in casserole and risotto with chicken and miso cream undermine somewhat the merits of some of the other dishes and serve once again as a timely reminder why restaurateurs should take care, when straddling two gastronomic traditions, not to allow their food to become more 'confusion' than 'fusion'. Fay Khoo
Venue name:
Bistro Fiore
Address:
H0-11 Plaza Damas, 60 Jalan Sri Hartamas
Kuala Lumpur