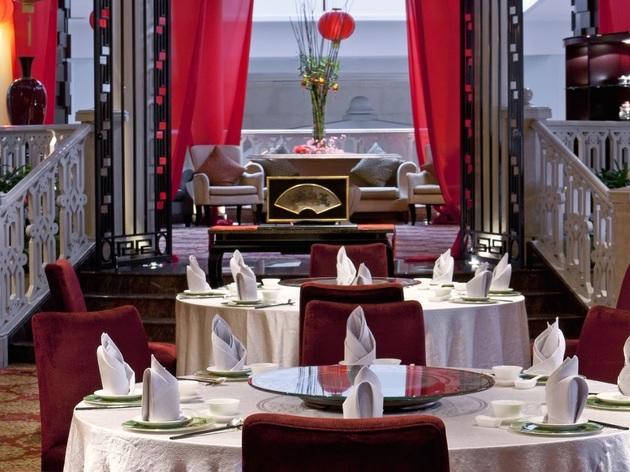 Time Out says
November 2010
Much more than just another dim sum diner, Celestial Court are very worthy entrants in the Time Out Kuala Lumpur 2010 Food Awards – watch out next month to see whether they won their 'Best Chinese' category or who beat them to it.
The striking red dining space conjures contentment and sentiments of old China and the prompt, smiley service further relaxes you. The staff are an important element in dim sum as it's always a good idea to get the nod on items which the Chef rates highly or which prove especially popular.
Such a dish was the crispy duck. It's not hard to find good duck in KL but that makes really good duck seem all the more remarkable. Crispy skin that had imbibed itself in all the flavours and juices of the bird before being crackled to perfection hit me first. Then the skin that didn't just melt but almost floated to pieces in the mouth. The kind of dish that you resent having to share.
Beyond that there was some dynamite-d spicy prawns served intelligently and aptly with chicken floss before we dove into a selection of rolls, pau and puffs. The crispy sesame spring rolls were much less crispy after a solid dunking in soy, the sauce offering helping really bring the best out of all the dim sum offerings. The highlights here were the seafood, scallops and prawns, pieces that tasted almost overpoweringly fresh.
My only issues with Celestial Court are problems of necessity. Being a five star hotel, they have to be halal. As frustrating for the team in the kitchen as it is the dedicated dim sum-mer, I suspect. But they admirably avoid the use of pork, even as it must immediately put off the connoisseurs who crave the cursed pig.
Since the review I realised that I missed their Sri Lankan crab, which was an oversight that haunts me still. An increasing number of KL restaurants are bringing in these delicious suckers on which to suck, so it will be interesting to see how Celestial Court's stack up. Don't be surprised if the online version of this review gets updated to a four star. Matthew Bellotti
Awards
Food Awards 2012 and 2010
Celestial Court was voted Best Chinese in the Time Out KL Food Awards 2012. It was also shortlisted in the same category in 2010. Our food awards are 100% voted for by the people of KL. This way, we guarantee that popularity and consistent performance is rewarded.
Details