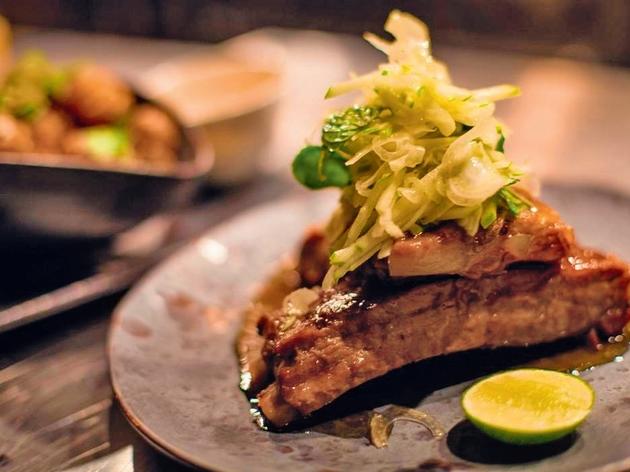 There has been a lot of hype surrounding the opening of Drift Dining and Bar, a modern Australian restaurant with heavy Asian influences, and we can safely say the hype was justified. When we visited the restaurant in its first month of operation, the menu was very limited; there were only 11 items on the menu, including two snacks and a dessert. But that would expand once head chef Angus Harrison had the full complement of staff. While the dishes are portioned like a main course, they are meant for sharing. True to the style of modern Australian cuisine, the dishes here are fresh with vibrant flavours, and focus on the quality of the produce.

Cauliflower isn't the most exciting of vegetables (at least to me), but our first dish of Moroccan-spiced cauliflower with saffron yoghurt and rum-soaked raisins got us singing praise. With tandoori-like flavours, the freshness of the mint, coriander and onion salsa complemented the light heat of the spice while the raisins, bursting with rum in the mouth, added a sweetness that took the dish to another level. It's a showcase of Australian chef Angus's (formerly from Salt Tapas in Bali) deft hands and solid understanding of flavours, and the next three dishes we ordered were as triumphant.

The slow-braised baby pork ribs with yakiniku (Japanese-style barbecue) sauce were a three-day work, and it showed in the tender meat that just fell off the bone. The tart, sweet and crunchy apple and fennel salad was a brilliant accompaniment. Squeeze in the slice of lime for an additional tang and you have the perfect dish that's multidimensional in flavour. The chargrilled sticky pork chop was executed in similar vein. It was a tantalising mix of all the flavours you would want in a dish: sweetness from the dark soy sauce that's used to cook the pork; sour from the pickled young mango and cucumber salad; and salty and spicy from the Nam Prik dipping sauce that's a concoction of lime, lemon, salt and hot bird's-eye chilli.

If we had to nitpick, it would be the pan-roasted whole baby red emperor with enoki mushrooms, buerre noisette and sumac. As a whole, the fish was cooked beautifully – you could pick the flesh from the bones easily with just the spoon – though some small bits nearer the spine, while not exactly uncooked, could use a little more time on the heat. That said, the sumac lent a gentle lime-like tartness while the enoki mushrooms a more pronounced sweetness to the fish's delicate flavours.

The only dessert on the menu, the cinnamon-spiced Spanish doughnut could just be KL's best churros: crispy on the outside, soft and airy inside, and liberally dusted with cinnamon and sugar. The dips – puree-like homemade strawberry jam and rich toffee-like dulce de leche – were so good you'd want to eat them by the spoonful.

At Drift, you can afford to have wine with your food, and you must. The wine list, longer than the food menu, is a well-rounded selection from both old and new worlds thanks to sommelier Donna Freeman's belief that wines should be accessible to be enjoyable. The 11 choices of wine by the glass starts at just RM19 (the easy drinking, floral, fruity and slightly sweet 2014 Bodega Santa Ana Sauvignon Blanc from Mendoza, Argentina) and tops off at RM38; wines by the bottle starts from only RM98.

The restaurant is still in its infancy. A speakeasy lounge, Privi, will open soon, so will an adjacent café/deli called Ebb and Flow. But so far, Drift has impressed us. There's a sort of casual confidence in the food here that you don't often find in KL; the taste is refined, a beautiful play on textures and robust flavours that caters well to our palate, while the presentation remains modern but homey, with a price point that's very accessible. Drift Dining and Bar has serious five-star potential. We'll be back in a few months' time when the restaurant's running in full swing with a full menu; we hope we're right.
Venue name:
Drift Dining and Bar
Contact:
Address:
38 Bidara
Jalan Bedara
Off Jalan Nagasari
Kuala Lumpur
50200

Opening hours:
Mon-Sat, 5pm till late
Average User Rating
2.7 / 5
Rating Breakdown
5 star:

1

4 star:

0

3 star:

0

2 star:

1

1 star:

1
Disappointing. It was a promotion night for Malaysia Day - advertising free drinks and nibbles. My partner and I booked in for a meal and had ordered food and drinks. We were also looking forward to some nice extras, but were told that we couldn't take part because we were not sitting in the right part of the bar.
The meal cost over RM200 (Couple of main dishes and a drink each). Frankly we went away hungry and thought the food was no more than okay. Nicely presented, but little to no substance.
I thought Aussie eating was about getting 'a good feed'? Never again.
we are staying closeby and have been twice this week. The barramundi was great, fresh and tasty. Friday bbq was also good but chicken needed a few extra minutes. the staff were really good and attentive. We will certainly be back again and again.
So, this is what the changkat crowd considers as 'good' food. The Fennel and Beetroot salads had a taste. A salty taste. And only that. The pasta had a pungent smell of dough. And they had a taste too. Wait for it....you guessed it! A salty taste! Bravo! The much hyped ribs fared a little better when it came to the sheer number of tastes it provided. Two in this case. In addition to being salty, it had armpit. Yes, you read that right. Armpit. Never knew that was such an off-the-shelf condiment. You learn something new everyday I suppose!
I was totally taken for a ride by the impressive Tripadvisor reviews. After dining at Drift tonight, I realized that these reviews must either be paid, or it was symbolic of the very shallow palate of diners that frequent restaurants in this area. I had already smelled the stinking skunk of signs from all over the reviews, but I had to come to verify it just in case. There are restaurants that profit by having a loyal base of customers return by keeping standards high. Then there are the ones that profit from one-off customers (which probably explains why it's located the premier drinking *cough(cirrhosis)cough* district of KL, what better way to numb the palate. genius). Drift Dining & Bar is very much the latter. It seems very unlikely that Drift is to salvage anything from this culinary wreck that it is. But it doesn't have to. Because sucker gwailos and wailaus. hahaha!
If after reading this you're still so inclined to be the lemming of the down-under scam, take note that this is one of the more dodgy areas of town, located behind hotel istana with their hot blowing exhausts and steam coming out their drains, don't be surprised to see a couple of furry rattus scurrying across your path, not to mention motorcycle snatch thieves in dark helmets.