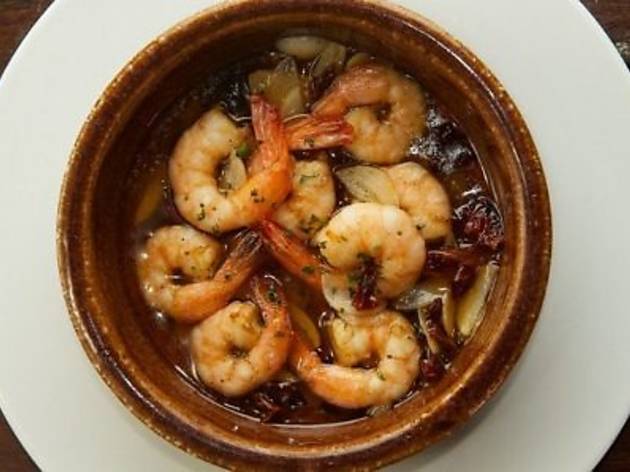 Time Out says
July 2010
Back when Telawi Tiga west was a mendicant cousin to thriving Telawi
Tiga east, restaurateur Mei Li Tan, fresh off the boat from London, decided to open there because 'she liked the location', never mind that it was, then, duller than dishwater. Fast-forward 12 years, and the eatery she opened, The Social, still garners its share of custom, and even boasts a sister outlet in Changkat Bukit Bintang, long after the naysayers had packed up and left.
Maybe it's because good restaurateurs, apart from doing their
homework and putting in the hard graft, just instinctively know things like where to open, and what to serve our notoriously fickle KL-ites. One thing is for sure however – to quote our favourite pop tart, 'Oops she's done it again' – and it's that all the early signs augur yet another quiet triumph for Tan with her latest eatery, the Spanish-centric El Mesón, again located in Telawi Tiga west, right next door to its elder sister.
Unapologetically porky (because, really, halal tapas?), El Mesón is helmed
by Fernando Tabernero, an alum from Martin Berasategui's three Michelin
eatery who makes up for his shyness with a versatile menu that encompasses both brassy buxom flavours (the Iberico ribs with smoked membrillo sauce) and subtle perfumes (the boquerones bacon with exquisitely slithery Spanish anchovies juxtaposed with bacon and breadcrumbs).
Apart from the tapas, mains, and a smattering of paella and pasta dishes, El
Mesón's formidable meat counter holds its own amongst the best delis in KL. Best of all, you can buy your Spanish cold cuts at prices that are more than fair. Perhaps it's the subliminally subtle flavours of the piquillos rellenos comprising Spanish peppers stuffed with minced beef and
pork that most eloquently encapsulate all that El Mesón exemplifies: this
understated façade unfurls to yield an exquisite culinary treasure inside to those who will invest the time to explore it. Muy delicioso! Fay Khoo
Details