Fatty Bak Kut Teh & Steamed Fish Head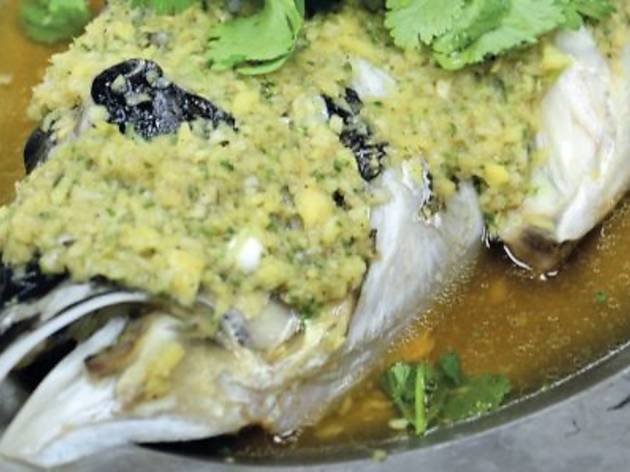 Time Out says
You may pass a debilitated trio of daichow-like stalls as you speed down Old Klang Road. Our advice: stop and sup instead. Previously open from six in the evening till 5am, they've now extended their opening hours to accommodate the early-risers. Each is a different station: one stall takes care of the bak kut teh, another the stir-fry dishes, and the third their famous Cantonese-style steamed fish head. Overseeing the entire operation is a rather rotund gentleman (usually clad in a white singlet) from whom the shop gets its unmistakably accurate name: Fatty Bak Kut Teh & Steamed Fish Head.
The fish head (RM30 and above) is available three different ways: steamed with ginger, soy sauce or cili padi. Go for the classic ginger preparation as they still manage to sneak fiery nuggets of cili padi into the ginger mash before dousing the fish copiously with soy sauce and steaming it, and then served with a generous sprinkle of chopped coriander.
This simple method of cooking brings out the freshness of the fish while retaining its nutrition. Here they use song yu (bighead carp), a freshwater fish with meaty flesh and silky skin. You'll need more than one bowl of white rice to mop up all the delicious juices.
Many argue the highlight is the fish's eyes. Understandably an acquired taste, the pleasure of digging the jellysoft, chewy orbs out of their sockets is perhaps best left to those who fully appreciate this delicacy.
Details