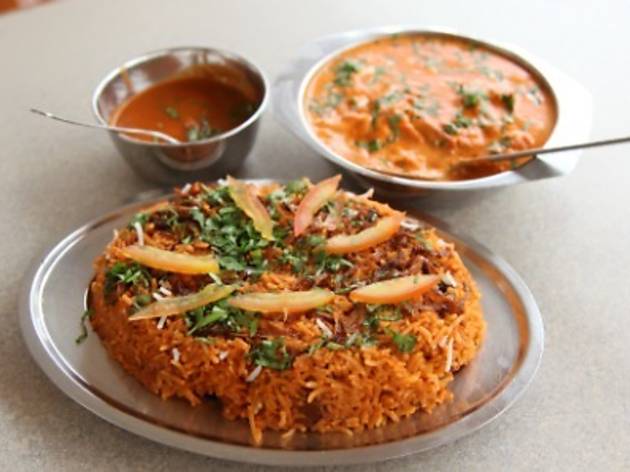 I often like to scope out 'new' restaurants before visiting usually by reading reviews or blogs. It was one of the latter that informed me that Gills was a great North Indian restaurant with one of the best butter chicken in Malaysia. No light claim.
The first time I ate there I didn't eat the butter chicken. Nor did I the second time. I waited until the third and it was just as well as I would never had returned had this been my premier visit.
I now know that the butter chicken is totally out of character. It's so far removed from the succulent, spicepacked sublimeness of their other menu items that it is a beacon of beastliness. I genuinely can't imagine what they are thinking. The meat is in stringy clumps (in all other chicken curries I have tasted it comes from far better quality parts of the bird and is prepared on or off the bone according to taste, both results being delicious), the gravy is watery and bland (two adjectives you simply couldn't use to describe their other rich, exotic and heartily satisfying curries), it is simply a shocking dish.
Just to clarify, this is indeed a good review. The food – this one dish apart – is outstanding. Quite, quite brilliant. The chefs are skilled and knowledgeable, the service is friendly and quick, the restaurant itself may be on the old side but it's perfectly clean and presentable. All is lovely. Apart from this one thing. And it's not just an aberration, it's an abomination. It's like seeing a brilliant gig, say Radiohead, and Thom Yorke and chums suddenly downing their instruments and proceeding to belch their way through Street Spirit (Fade Out). It would be your only memory of that night and so this incredibly poor dish is my overriding memory of what is now more than two dozen visits to Gills.
However, I've suffered for my art/dinner so you don't have to. Go to Gills. Go and experience their delicious biryanis, tandoori and do piazza. You really can't go wrong… well, nearly. Matt Bellotti
Awards
Food Awards 2011

Gills was shortlisted Best Indian Restaurant in the Time Out KL Food Awards 2011. Our food awards are 100% voted for by the people of KL. This way, we guarantee that popularity and consistent performance is rewarded.
Venue name:
Gills
Contact:
Address:
138
Jalan Kasah, Taman Bukit Damansara
Kuala Lumpur
50490

Opening hours:
Tues-Sun, 12pm-2.30pm, 6pm-10.30pm
You may be interested in: