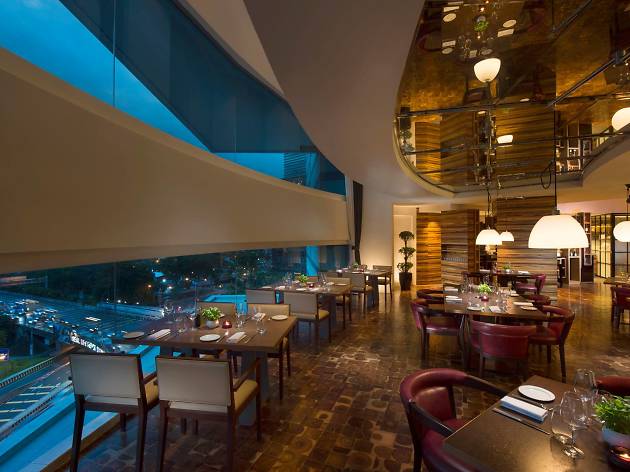 Time Out says
March 2014
Graze is very different from its previous incarnation, Senses. Its wood-accented interior is now cosier and more casual, less intimidating. The menu, a one-page fitting in everything from appetisers and soup to rice, pasta, main course, cuts of meat, side dishes and desserts, is very easy to understand. Graze's new modern European concept could have a wider appeal, but in this case, with a predecessor as illustrious as Senses, it becomes a double-edge sword.
When Hilton KL opened in the mid 2000s, its restaurants were the hottest thing in town. Senses was the main attraction, and through the years its food direction has seen multiple reinventions, from the experimentations with molecular techniques to a seasonal produce-driven modern Australian menu. Graze is simple and hearty, no doubt a testament to the kitchen's fine skills in cooking and execution, but compared to Senses's more risk-taking ventures, it feels a little uninspired.
My dinner companion had the minestrone soup to start while I chose the more interesting grilled quail with warm apricot salad. The soup was flavourful, packed with cubed vegetables (as it should be), ultimately very satisfying. My quail was well cooked: The meat was tender, well seasoned, and the crackling of salt and pepper on the skin provided a delightful burst of flavour. The sweetness of the soft apricot paired well with the nuttiness of the arugula. It could have been perfect if not for the heavy-handed use of oil dressing. My salad was drenched, thus losing the freshness and the lightness you'd expect of a salad or an appetiser.
For mains, my grilled Dorper lamb cutlets were cooked very well – no complaints there. However, its pairing with French fries and Béarnaise sauce came across a little too dry as a whole. Then again this is just my personal preference; I would have preferred grilled vegetables or stir-fried French beans. (To be fair, if you're like me, you could easily choose to add on a side dish – either the green salad, sautéed baby spinach or even champignon mushrooms – to rectify that.)
My dinner companion's choice of pan-seared salmon fillet with pressed potato, grilled fennel and pimento sauce was spot on. It was the dish of the night. The fish, cooked to medium, was beautiful as the oiliness of the fish was retained to give the flesh a silky, slippery mouthfeel. The grilled fennel contributed a herby sweetness to the dish; the pressed potato was infused with dill for an added dimension of flavour; the pimento sauce (made from capsicum) lifted the dish with a touch of heat. The individual components were executed very well, and together as a dish, they were elegant, they were brilliant.
When Graze opened late last year, we fell in love with its rustic and homely roast chicken with garlic and thyme, ruby roseval potatoes and button mushrooms – it almost made it into our list of the year's 20 best dishes. And this is the best way to summarise Graze: If you compare it to what it once was, which is Senses, Graze comes across as too safe, underwhelming and honestly, a tad uninspired. But if you were to judge it on its own merits, it's a fairly good restaurant with more hits than misses, offering hearty meals that are down to earth and easy to like. Lim Chee Wah
Details
Address:
Level 5
Hilton KL
3 Jalan Stesen Sentral
Kuala Lumpur


Contact:
Opening hours:
Daily, 12noon-2.30pm; 6.30pm-10.30pm
Users say