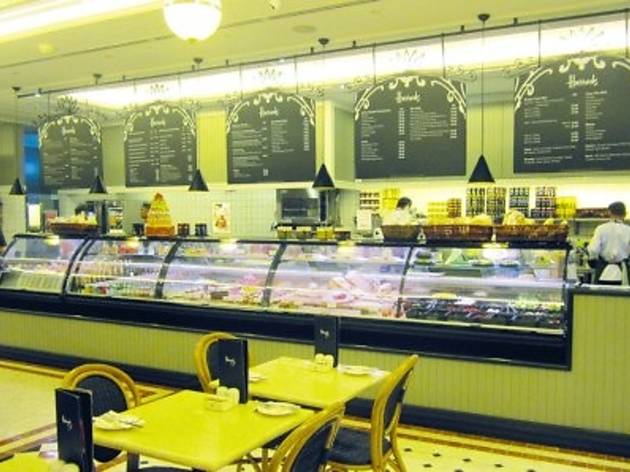 November 2013

Earlier this year, Suria KLCC's expansion brought about some new (fancy) shops and cafés, and along the Isetan extension is Harrods Café, a semi-alfresco outlet with a more casual vibe compared to the old English furnishings of its upstairs restaurant in Harrods, with lower prices too. The Harrods signage and immaculate tables and chairs still keep you from slouching in your seat, but hey, this is as relaxed as it can get.
I visited on a Thursday evening, just missing the daily afternoon tea slot which runs from 3pm to 6pm. The cafe's attraction is obviously its deli; breads, pastries, a macaron tower and all these dainty-looking desserts that cost at least RM12 each were the first to greet me. Menu items here include standard café fare like gourmet sandwiches and salads, while the mains comprise quintessentially English dishes like pie and mash, roast beef and a very expensive plate of fish fingers (RM32). They've even thrown in BBQ beef ribs and a burger into the mix. Not exactly in the mood for overpriced battered fish, my dining companion and I had the salt beef sandwich and oven-roasted quarter chicken with thyme gravy. They weren't adventurous picks, but we were hungry.

For a sandwich that costs RM25, the salt beef sandwich was just that with a side of chunky chips – no side salad or anything else – but the chips more than made up for the lack of sides. The sandwich didn't disappoint either; the generous pieces of juicy salt beef with pickles and veggies in ciabatta was definitely a sandwich to remember, though there aren't many of its kind in KL I can compare this to. You can even build your own sandwich and mix your preferred fillings with choice veggies and bread at RM10 per portion. Meanwhile, the roast chicken, with a side of tasty mashed potatoes more memorable than the chicken itself, made for a good, satisfying meal but not something I would return to the café for.

For dessert, I had a hard time figuring out what to order (going to the cake display only worsened the situation). On our server's recommendation, we got the strawberry cheesecake and, feeling a little adventurous, ordered the iced mocha mint. As mentioned, the desserts here are very small, but I was thankful for this cheesecake's size; it's rich and creamy but sadly not remarkable. The small strawberry slices may have prettied up the cake, but didn't do much to up the flavour. The iced mocha mint drink was met with similar disappointment.
It may be the cheaper Harrods in KLCC of the two, but Harrods Café is still one of the more expensive cafés out there. It's a nice place for classic, pork-free English staples – if not for their afternoon tea sets – but not so much for just coffee and dessert.
Venue name:
Harrods Café
Contact:
Address:
Ground floor
Suria KLCC
Jalan Ampang
Kuala Lumpur
50088

You may be interested in: