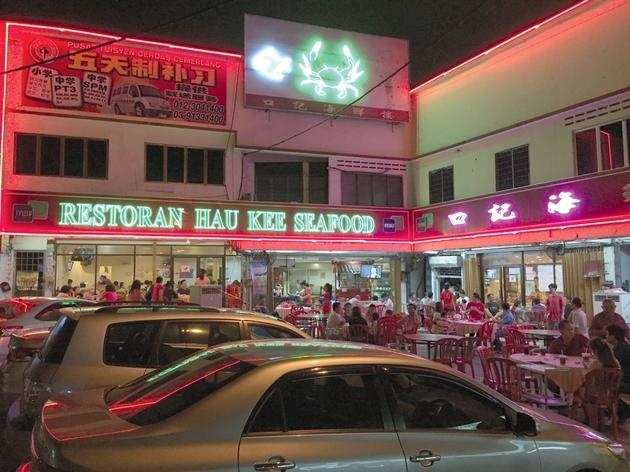 Time Out says
From the outset, Hau Kee doesn't look like it'll be any good. First, parking in this traffic-choked area of Cheras is atrocious: double-, triple-parked cars turn the roads into a makeshift parking lot. Secondly, the restaurant is a big mess: Though it occupies four shoplots, the tables are strewn about without any order, both in the premises and out on the sidewalks. The entire place just looks unkept. But, if you get pass all that, you'd have one of the best Chinese food this part of the KL suburb.

We ordered six dishes and they were all perfect. The stir-fried pork intestine with dried shrimp was so fragrant and savoury it's addictive. Most importantly, the offal was fresh, clean, springy and crunchy. The marmite pork ribs were just the way it should be: tender pieces of pork with a slightly charred surface coated evenly in a sticky sweet, salty syrup. The clam in superior soup (siong tong la la), a rich stock that had been boiled with ginger, garlic, Chinese wine and coriander, was made better with the addition of cili padi. It had some serious kick. Plus, the clams were plump and clean – there weren't any sand residue.

The restaurant takes pride in their signature dish, the 'one bucket chicken', and it's not difficult to see why almost every table had an order of this. It is essentially kampung chicken steamed and then served in a wooden bucket (hence the literal name). But the use of premium soy sauce, sesame seed oil and Chinese Angelica (tang kuei) in the steaming process actually enhances the sweetness of the chicken. The claypot braised mutton belly was very enjoyable too – the addition of ginger and chilli into a dark soy sauce gravy that was reduced to a sticky glaze made this a flavour-packed dish, and plus points for completely eliminating the gaminess one usually finds in mutton. Lastly, the fish head curry had just the right balance of spice and creaminess, so you get the chilli heat you crave for without the sharp sting in your throat. The fish was fresh and beautifully cooked, and accompanied with loads of condiments: taufu pok, cabbage, long beans and okra.

Chef Leong Mang Fatt, owner and head chef of Hau Kee, started his apprenticeship in the kitchen when he was only 11 years old, and later worked to grow his little stall into this huge and popular restaurant. And I suppose his humble beginnings have been a great influence in producing food that is honest and generous in flavours. These dishes are clearly a step above those you find in Chinese daichow. You can tell they have been refined in taste and execution; they just don't look it. But in this case, appearance doesn't really matter.
Details
Best selling Time Out Offers