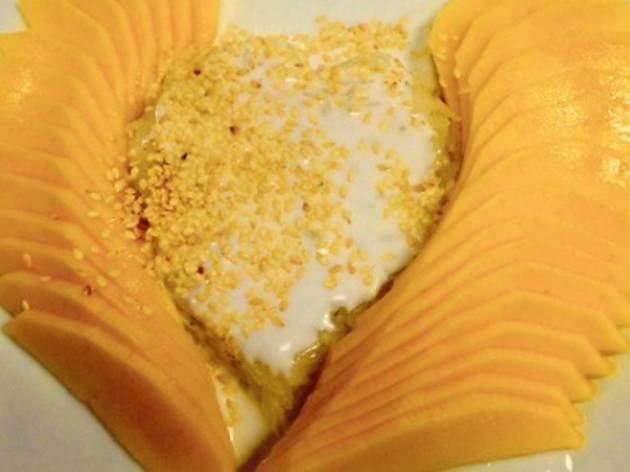 May 2013
At a time when restaurateurs are scrambling to pin down eye-catching outlet names like La Vie En Rose and Hit & Mrs, the name 'I'm Spicy' seems a half-baked effort at best. The lack of a sophisticated moniker, though, appears to have little or no bearing on this cosy Thai eatery's business, which was thriving when we arrived on a Sunday night. Situated on a quiet nook of PJ's Section 17 that also houses Kanna Curry House on the same row, I'm Spicy was packed to the rafters with large groups of families, with the remaining tables reserved by regulars or patrons who knew better than to rock up without a prior booking.
We were eventually whisked away to a secluded table at the rear of the charming restaurant with an exposed brick wall, where a friendly if indignant waitress came around twice in quick succession before we had time to fully catch our breath. Upon placing our order, we were pleasantly surprised when the house specialty deep-fried pork ribs, garlic squid, stirfried kailan with salted fish and clear chicken tom yum miraculously arrived after a mere ten minutes.
Being renowned predominantly for its Thai pork fare, the two-year-old restaurant's signature deep-fried pork ribs were unsurprisingly the highlight of the meal, combining a fall-off-the-bone tenderness with an addictively zesty tang. However, the dish's small helping, an unfortunate aspect that also plagued the largely unmemorable kailan, left us squabbling over the six puny pieces of pork ribs. The slightly bigger portioned deep-fried squid with garlic chunks was palatable if a little floury, while the meagre (though tender) chicken bits complemented the sour piquancy of the clear tom yam soup nicely.
Aside from all the porky goodness, another main feature at I'm Spicy is the ability to customise a dish's spiciness, with ratings ranging from zero chilly to four chillies. If you unwittingly bite off more chillies than you can chew, the outlet's house drink, a refreshing ice-blended pandan, lemongrass, lime and mint leaves concoction, is a life saver, though it's let down again by a less than generous serving. Meanwhile, the ubiquitous mango sticky rice dessert, which came in an adorable heart shape with an abundance of roasted sesame seeds, and the Thai cendol (like the local equivalent but sweeter) were decent without being entirely groundbreaking.
The rapid fire service here, though, came at a price, as our dishes were cleared as soon as we were finished while another family with iPad-toting toddlers was already hovering in the background by the time our desserts were served. The bustling I'm Spicy is not a hang out-friendly spot, but for fans after the rare union of Thai cuisine and porcine treats, it's still a compelling choice that more than holds its own against the established Surisit Thai Kopitiam and the recently opened Kompassion. Wong Boon Ken
Venue name:
I'm Spicy
Contact:
Address:
1 Jalan 17/45
Petaling Jaya
46400

Opening hours:
Wed-Mon, 12noon-3pm; 6-10pm
You may be interested in: