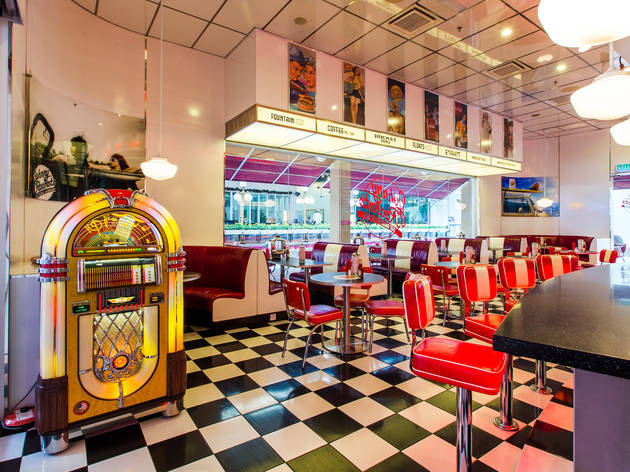 Time Out says
May 2014
The classic all-American diner is a bit of a rarity in KL, so when a chain like Johnny Rockets comes in with its '50s diner concept and the promise of happy, dancing servers, there's bound to be some hype surrounding it. Sure enough, on my visit to the chain's second outlet at Avenue K (it was lunch time on a Friday), the restaurant was packed and we had to wait over ten minutes for a table.
A-ha's 'Take on Me' was playing as we were shown to our table, and although synth pop is more '80s than '50s, I appreciated the effort at inducing nostalgia. Not five minutes in and I was already gushing over the bright red vinyl seats, shiny black-and-white tiled floors and retro chrome accents; it was like being on the set of 'Happy Days', or that diner in 'Back to the Future'. The only thing missing was a jukebox sitting in the corner, but interior-wise, Johnny Rockets has it down to a T.

You get so caught up in the ambience – not to mention the servers dancing to 'That Thing You Do' by The Wonders – that it doesn't occur to you that the food might not actually be that good, and sadly this was the case. The bacon cheese fries we ordered can only be described as passable – the fries alone were nothing to shout about – while the Smoke House Single burger (cheddar cheese, beef bacon and onion rings with barbecue-ranch sauce) and Philly cheese steak sandwich were similarly underwhelming. The burger's beef patty was juicy but slightly overseasoned, and the buns arrived lukewarm and a little on the soggy side. The Philly cheese steak, a sandwich that looked appetising on the menu, was basically just greasy pieces of grilled beef, onions and cheese in a bread roll (known in the US as a hoagie roll).

Thankfully the milkshakes saved the day, the only things we had that we would actually go back for. Creamy and super indulgent, the chocolate peanut butter and strawberry milkshakes go right up there with some of the best, with special mention to the strawberry milkshake for not tasting like your run-of-the-mill, artificially flavoured strawberry ice cream.

Once the '50s diner charm wears out, nothing really sets Johnny Rockets apart from your other American family restaurant chains. Of course, the restaurant's novelty factor (dancing servers!) is a good enough reason to visit for curiosity's sake. Just order a milkshake (and maybe some fries) and you're good.
Details