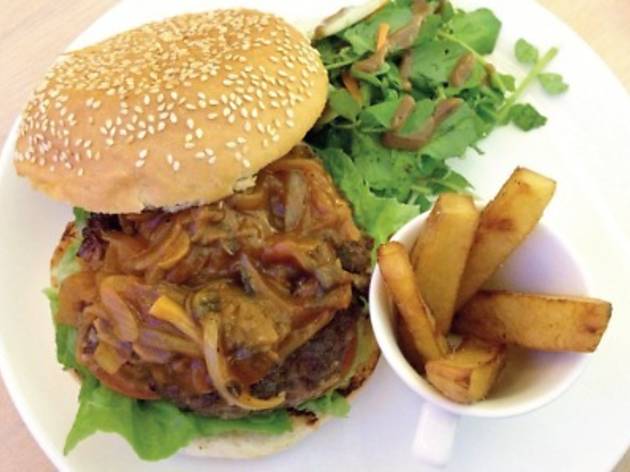 Time Out says
November 2012
Just Heavenly has long been a byword for baked goods in the Klang Valley, and recently they've extended their reach to include a café in BSC, with mixed results. The space is a clean white one, with pale wooden tables and pride of place occupied by the deservedly prominent cake counter. The menu is unadventurous but comforting – salads, sandwiches and pastas don't veer too far from tried and tested favourites. Some offer a small twist – muesli studded with macadamia nuts, soba salad, devilled egg mayonnaise – but most dishes are the kind you'd expect in any good 'Western' café.
We started with a shared Caesar salad, which boded well for the rest of the meal. The leaves were coated in the thinnest sheen of dressing, avoiding the dreaded pooling of sauce at the bottom of the plate. The salad was crowned with smoked salmon and a perfectly poached egg, but the dressing lacked piquancy.
Next came the mains – the BLT burger, a quiche Lorraine, crab aglio olio, and spinach and filo 'Pop Pie'. Of these, the most successful was the burger: moist, flavourful (although a tad oversalted), and accompanied by excellent steak fries. The crab aglio olio was a close second, topped with an abundance of crab and chilli flakes but perhaps just a tiny bit overcooked. The quiche Lorraine was described in the menu as containing slices of beef brisket which we thought unusual and therefore interesting. When it arrived, the beef brisket tasted just like beef bacon – that is to say, neither unusual nor interesting. Apart from that though, the quiche was tender and well cooked, sitting on a beautifully buttery base of pastry.
The only real disappointment was the Pop Pie. A reinvention of the Spanakopita, it's a spinach, ricotta and feta filling wrapped in filo pastry, which sounds great but failed to deliver. The filling (and there was a lot of it) was just this side of dry and almost stringy while the lightness of the filo pastry couldn't support the spinach. It shattered beautifully but the textures just didn't match – the pie needed a richer pastry to tie everything together.
All was forgiven by dessert though – given Just Heavenly's baked goods provenance, we really feel this is where they should concentrate their talents. We didn't quite have room for the famed Death by Chocolate cake but gladly took in a slice of chocolate fudge cake, as well as mini portions of the classic cheese and apple crumble cheese cakes. A good meal, but next time I'm going straight to dessert. Emma Chong
Details