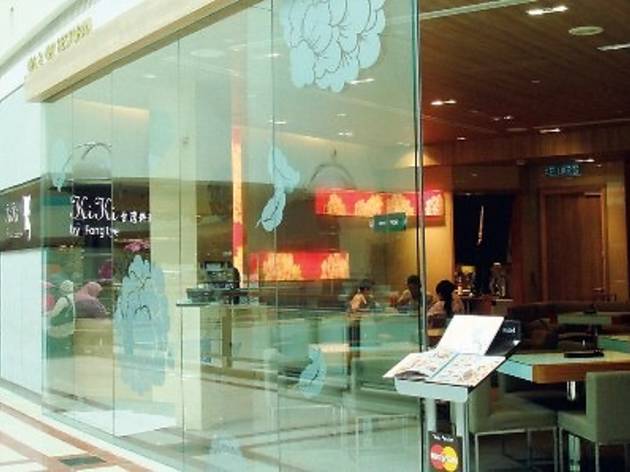 July 2012
Suria KLCC offers rather dubious dining pleasures. At the cheap end, you find the fast, overly fried offerings of the crowded food courts. At the other end, there's a bundle of unimaginative chain restaurants rolled out, it seems, to trap tourists and tired office workers.
Make your way up to the top floor, however, and you'll find some kind of culinary middle ground. Here, a few modest and modern restaurants await the diner looking for a decent meal away from the shopping herds. Among these restaurants is Ki Ki Taiwan Cuisine, which opened in 2011 as part of the local Fong Lye chain. It may be tucked away, but Ki Ki is still popular; even on weekday nights, customers form a loitering queue outside. The secret? Reasonably priced food, served fast.
A few kitsch touches aside, Ki Ki is refreshingly functional. Decked out much like its sister restaurant in Gardens, low tables are set closely together, while the simple décor is brightened by a few pink floral lightboxes. Similarly, the menu is nothing spectacular, consisting mostly of standard Chinese and Taiwanese comfort food. But what they do simply at Ki Ki, they also do well.
Most of the rice and noodle dishes at Ki Ki come in a set. As I think we can all agree, there's something vastly satisfying about a set – it's like having a main meal with extras thrown in for free. Anyway, with prices averaging around RM20 per meal, you can hardly complain. I ordered the Taiwanese braised beef noodles, which arrived with side trimmings of vegetables, a meat croquette and half a boiled egg.
The noodles were pleasingly savoury, sunk in a flavourful thick broth and topped with a decent portion of tender beef pieces. As noodle soups go, it was well balanced and hit the spot. A side order of another house speciality, the fried sweet potato balls, rounded things off nicely. Crispy on the outside and indulgently chewy on the inside, the sweet potato balls make a tasty – if not particularly healthy – snack for sharing.
If there has to be one gripe about the restaurant, it's the drinks. Perhaps the managers feel like they need to recoup their margins somehow, but the drinks menu – though extensive – is very overpriced. There's an array of leaf teas, blended juices and bubble teas, some of which cost almost as much as the food. If you're not into elaborate beverages, be warned: the restaurant doesn't serve tap water.
Drinks aside, Ki Ki is good value all round, especially for families and those looking for a casual date venue. Service is efficient, the portions are generous and the food won't go far wrong. Sure, there are no culinary fireworks, but we stopped expecting those in shopping malls a while ago. As far as Ki Ki goes, the highest compliment I can pay it is this: it's worth the eternal wait for the elevator up to the top. Ling Low
Venue name:
Ki Ki Taiwan Cuisine
Contact:
Address:
4th floor, Suria CC, Jalan Ampang
Kuala Lumpur


Opening hours:
Open daily, 11am-10pm
You may be interested in: