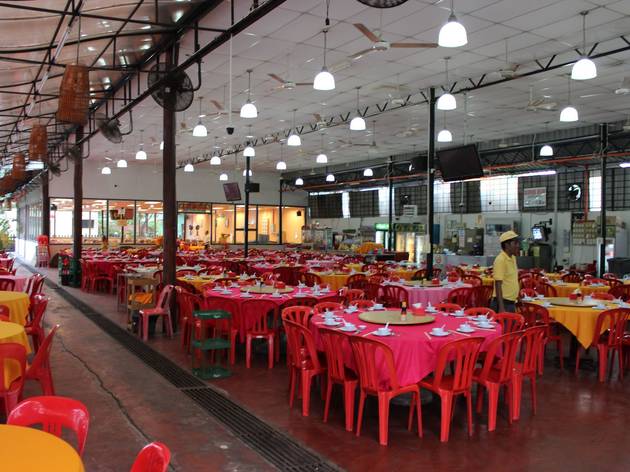 March 2013
Lala Chong always reminds me of LCCT. Maybe it's the cheap galvanised iron roof and fluorescent lighting of the alfresco dining area, or maybe it's because it's always packed with punters. Either way, it's clear that seafood, not ambience, is the key draw at Lala Chong. Originally located opposite Subang Airport, Lala is one of the older seafood restaurants in town, and while locating it may be challenging, it's worth the effort.
The signature dish after which the restaurant is named, the siong thong lala with Chinese rice wine, ginger, garlic and chilli padi, is endeared because the broth is eminently drinkable. But when you're after something rather feistier, the kam heong lala is more effective at hitting the spot. Lala's lalas are covetable because they're smaller than usual, and sweeter. The tiny clams are also a key ingredient in their lala bee hoon, another house speciality, but the clams don't quite make their mark in the fried noodles, not least because the delicate flavour of the shellfish is by and large overwhelmed by the other ingredients in the dish.
Like many other Chinese seafood restaurants, Lala Chong also supplements its menu with Chinese home-cooked dishes, and there are a few standouts worth trying. To wit: pucuk paku ferns are fried with tuna (the canned variety, mind), chilli and garlic. The combination may be bizarre, but the resulting flavours are surprisingly addictive. Ditto the ladies' fingers tousled with petai and sambal.
But it's still the seafood that takes centre stage. The deep-fried baby squid with honey is de rigueur as a starter. Sweet, salty, crunchy and replete with umami, it eloquently sets the stage for the deluge of food that's about to follow. Don't eschew the frogs' legs at Lala Chong. Here, the amphibious thighs are especially juicy and meaty, and are fried kung pao style with dried chilli and spring onions, which is always a surefire crowd pleaser. Crabs are a must and my favourite is the salted egg yolk crabs because they are so rich that I could almost forgive Singapore for claiming chilli crabs to be theirs – this is evidently a far better crab.
Before you embark on a meal at Lala Chong, I only have two pieces of advice for you: 1) wear elasticised waist pants, and 2) head out early for the restaurant, if only so you have time to digest the vast quantities of food ingested during dinner before you go to bed. Fay Khoo
Awards
Food Awards 2011, 2012 and 2013

Lala Chong Seafood Restaurant was shortlisted Best Seafood in the Time Out KL Food Awards 2011, 2012 and 2013. Our food awards are 100% voted for by the people of KL. This way, we guarantee that popularity and consistent performance are rewarded.
Food 40

Food 40 is our monthly, definitive guide for where to eat in the Klang Valley. No entry into the Food 40 has provided any Time Out team member with a free meal or other incentive. If you have eaten somewhere that you think should rank amongst KL's top 40, email us and we'll check it out: editor@timeoutkl.com.
Venue name:
Lala Chong Seafood Restaurant
Contact:
Address:
31 Jalan PJU 1A/5A
Taman Perindustrian Jaya
Ara Damansara
Petaling Jaya
47301

Opening hours:
Daily, 11am-11pm
You may be interested in: