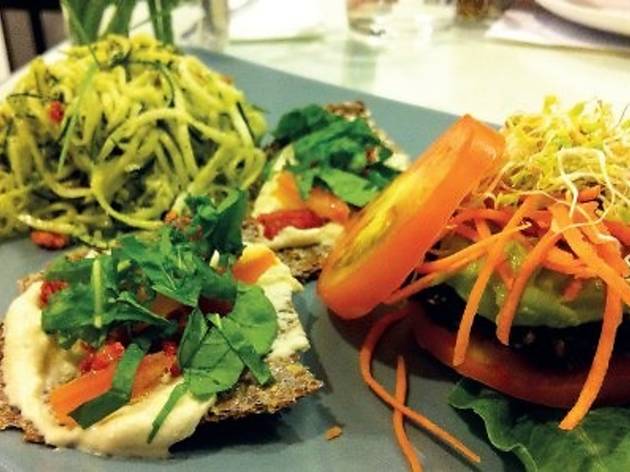 Time Out says
June 2012
Here's the thing: had I visited Living Food without having had the prior benefit of two weeks on a raw food diet, I may well have scoffed at the premise of eating uncooked food. But having actually tried, and enjoyed raw food without – surprise – the sensation of deprivation for the entire fortnight, I was already a convert to the cause. Apart from the obvious benefits (weight loss, extra energy and a spring to your step), there are myriad less discernible long-term gains. It's no coincidence then that eateries like Living Food are sprouting up around the Klang Valley like mung beans.
Wisely, Living Food isn't exclusively raw. Cooked dishes like chicken pot pie are prepared with free-range chicken, while their Borneo laksa is served belacan free with black rice noodles. But in an eatery like Living Food, where time and immense effort have been invested into creating delicious raw food, why would you waste your time on healthy versions of junk food? I'd recommend that you throw off your salt crutches, discard your deep-fried dependency and dive right in; the rewards are truly immeasurable.
The quinoa and mushroom salad is tossed with romaine, walnuts, almonds and pumpkin seeds, and then dressed with a miso herb creation that is simultaneously zesty and invigorating. For the raw purist, the signature Living Greens salad probably gives you your five daily serves of vegetables in one go: fresh Napa cabbage, sprouts, mixed herbs, hemp hearts, ginger and even spirulina – that smelly superfood some of us know and love not so well – are coated with a flaxseed oil dressing for a taste sensation that is redolent of crisp summer mornings.
Maybe the flavour raider in me won't go quietly into the good night quite so easily because it's the raw enchilada that stole my heart. A corn flax tortilla is stuffed with guacamole, sprouts, tomatoes and vegetables; owner Philip Yun tells me with some amusement that most diners refuse to believe that the enchilada hasn't been cooked in some way. Certainly this incredulousness is testament to the eatery's skills in serving creative and tasty raw food.
For dessert, raw but crunchy banana fritters and even raw banana pancakes with homemade dairy-free ice cream will, I hope, strengthen your newfound growing conviction that raw food is good. It certainly hasn't diluted my passion for eating raw, for some of the time at least. Fay Khoo
Awards
Food Awards 2012 and 2013

Living Food was shortlisted Best Healthy Eats in the Time Out KL Food Awards 2012 and 2013. Our food awards are 100% voted for by the people of KL. This way, we guarantee that popularity and consistent performance are rewarded.
Details