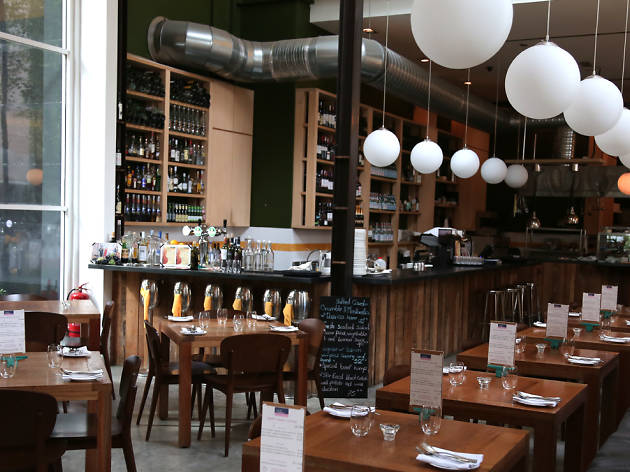 Time Out says
Decent authentic Spanish eateries are few and far between in a city more commonly fixated with Mediterranean culinary neighbours Italy, so we were intrigued to see what new joint Mediteca Wine Tapas Deli had to offer in that respect. Located just five minutes away from KLCC, the elegant, minimalist two-floor restaurant is easily accessible along Jalan Perak and housed within new upscale serviced apartment Fraser's Place.
Whether it was just opening week anticipation or us being the first customers for dinner, the overeager waiters were extremely friendly and attentive during our visit in late August. Recommendations and advice on how to refer to the menu (tapas are strictly for one while raciones can be shared) came thick and fast. Overwhelmed by the sheer amount of choice and despite the forewarning, we opted for three sets of tapas to share, namely brocheta entrecote (skewers of beef strip loin with red wine reduction), patatas bravas and tosta con tomate (tosta with sun dried tomatoes and goat cheese). The highlight was the beef skewer, which was succulent and well-marinated while the accompanying light mashed potato had a pleasant tinge of sweetness. The bite-sized patatas bravas, a native Spanish dish of fried potatoes, were tasty with a zesty zing from the spicy tomato sauce though the toasted bread was rather uninspiring.
Hungry for more, my companion and I skipped the entrees and dived right into the main dish – a two-person pan of paella with chicken and vegetables. Aromatic and with an enticing golden glow, the classic Valencian rice dish, filled with broccoli, eggplant and chunks of chicken, was moist, well-seasoned and flavourful, although to say the helping could fill two stomachs completely would be a stretch. Moving swiftly to afters, the warm chocolate fondant with vanilla ice cream that came highly recommended was almost flawless; the soft melt-in-your-mouth chocolate centre with a thin crunchy outer layer would satisfy even the most ardent of sweet tooths, though I wish there was more of the tapas-sized dessert to go around.
Boasting relatively affordable prices (when compared to other Spanish restaurants in the Klang Valley) and a pork-free menu in a swanky setting, Mediteca has an excellent chance to attract a wider audience to try out Chef Manuel Lopez's many gastronomic delights. While it remains to be seen whether the service will stay as warm and personal when crowds eventually flock to the outlet (I was even offered a strong shot of 'orange jello' at the end of the meal by our perpetually smiling server), the seafood paella (RM70 for two people) and yoghurt mousse with mango cream (RM16) have already been earmarked for my next impending visit.
Details