Nathalie's Gourmet Studio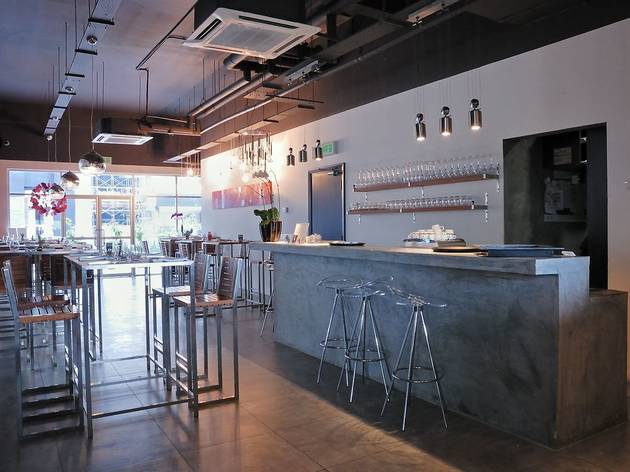 Time Out says
July 2011
Maybe I'm a solitary voice in the wilderness, but of late there's been a palpable sense of same-sameness, barring a few notable exceptions, when it comes to cuisine in KL. Venturing off the beaten track isn't a popular option, and that's why – because she's willing to take chances – Nathalie Arbefeuille's cooking is all the more exciting. Since launching her eponymous Nathalie's Gourmet Studio, the self-taught chef has been zooming up the radars of foodies and socialites alike, and it would not be imprudent to say her food is these days de rigueur whether it's a ladies' lunch or home catering you're after.
And why not? Ms Arbefeuille, whose surname (literally 'leaves of the tree') is as quietly poetic as her gastronomic creations, has succeeded in resuscitating our collective palate with her often playful, always inventive dishes. Although the food may not always hit its mark, her method of enlivening classical French culinary techniques with innovation ensures that the spirit of creativity is never gratuitous and always a visual and textural feast.
The menu invariably invokes oohs and ahhs amongst newcomers but there are fixtures we have come to know and love: Nathalie's jellies give starters an added dimension, her foams add airy yet paradoxically voluminous lightness to main course dishes, and her irresistible Parmesan cones and wafers lend weight to ephemeral soups. The menu may be limited but it's thoughtful, and such creations as the intriguingly flavoursome snail mille-feuilles, gossamer sheer fennel soup, and orgasmic berry pavlova will intrigue even the most fastidious palates.
Because the menu changes monthly (take that as a lesson, all you chefs who've been shamelessly flogging the same menu for the last five years), there is little chance your palate will get inured to Nathalie's considerable gastronomic charms. Although, given the limited number of tables at her restaurant/school, you're unlikely to get the chance to make daily meals there a habit. As for the hype you've heard about her macarons, it's all true, true, true; so resist the urge to overeat, if only so you can stuff your face with her technicolour, deliriously delicious, dexterously aerated macarons.
Try as I might, there is little to find fault with this indefatigable chef and her team, and given her apparently boundless energy and appetite for hard work, it's a safe assumption that we'll be hearing much, much more from Ms Arbefeuille. And for that, we have abundant reason to be thankful. Fay Khoo
Awards
Food Awards 2010, 2011 and 2012

Chef Nathalie Arbefeuille was voted Outstanding Chef of the Year of the Time Out KL Food Awards 2011 and shortlisted in the same category in 2012. She was shortlisted in the same category in 2010. Our food awards are 100% voted for by the people of KL. This way, we guarantee that popularity and consistent performance is rewarded.
Details