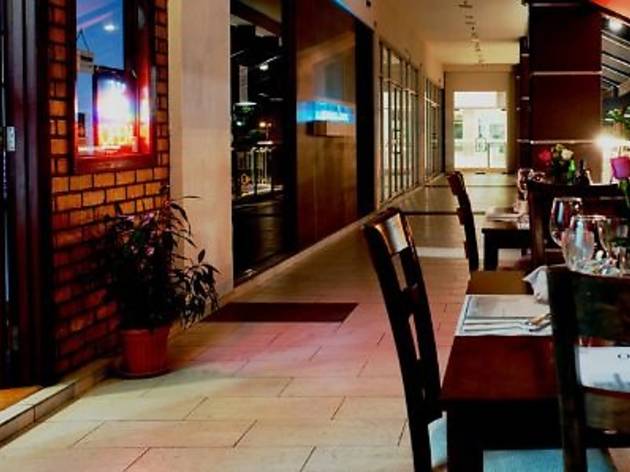 January 2013
In a landscape where style all too regularly triumphs over substance, it's heartwarming to see the underdog claim victory, even if it doesn't happen often enough. At Osteria RealBlue, you would be a) a friend of the owners, b) lying, or c) visually challenged if you described the setting at the Italian restaurant as charming. Apart from a few 'ambience' posters of Italian landscapes and some less than tasteful furniture, there is nothing much to distinguish the eatery.
But don't disparage the setting just because it's simple, and Spartan even. It doesn't detract from the real star, and that's the food, although it must be said that the larger-than-life personalities of chef Mirko and his maitre d' wife Sherry squeak in at a very close second. Colourful, unpretentious and friendly to all customers regardless of the price of their wine or food, their brand of restaurant is a welcome throwback to the days when hospitality and genuinely good food ruled, above all else.
At Osteria, there is nothing new about the menu. Rather, it's the quality of the ingredients and the authenticity of the flavours that set this little eatery apart. Creamy, dreamy, velveteen burrata is embellished simply with truffle oil and strips of sun-dried tomato, because Mirko understands the importance of letting the ingredients shine. Another favourite starter of mine is the artichoke, mushroom and celery salad. Once again, the ingredients perfectly juxtapose each other, and a smattering of Parmesan chips and truffle oil make discreet yet charismatically well-matched chaperones.
If you're a pasta freak, the homemade fresh pasta at Osteria will be compelling, to say the least. At the top end of the 'lash out' scale, the pasta al tartufo comprises simple pasta topped with shavings of fresh black truffles (if the penny hasn't yet dropped, Osteria is well known as a truffle-centric restaurant, hence the proliferation of truffle-based dishes on the menu). But if you left your black Amex at home, the modestly priced tagliatelle with wild boar ragu is a heartily meaty meal with the perfect proportion of sauce and meat to pasta.
I'm licking the streaky bacon bits of the amatriciana sauce off my fork as I idly look around. At the next table, a group of young, well-dressed Chinese yuppies are cooing over their food. At the table next to them, an expatriate business magnate who owns an expansive Greek villa is entertaining his wife and guests with decanted (read: expensive) wine. Their presence – and enthusiastic enjoyment of the meal they are eating – is proof that you don't need overdesigned, over-dressed settings for a restaurant to be well received. Just ask Sherry and Mirko. Fay Khoo
Awards
Food 40

Food 40 is our monthly, definitive guide for where to eat in the Klang Valley. No entry into the Food 40 has provided any Time Out team member with a free meal or other incentive. If you have eaten somewhere that you think should rank amongst KL's top 40, email us and we'll check it out: editor@timeoutkl.com.
Venue name:
Osteria RealBlue
Contact:
Address:
Lot G 21 DC Mall
Kuala Lumpur
50490

Cross street:
Jalan Damanlela
Opening hours:
Daily, 11am-10pm