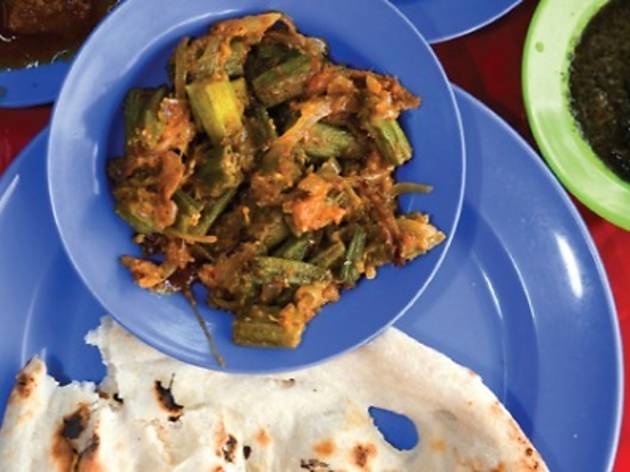 Time Out says
May 2008
Fifteen Pakistanis can't be wrong, or so I thought to myself as my dining companion and I snagged the only empty seats among the three tables fronting a less-than-nondescript stall at the end of Lorong Bunus Dua, off Jalan Masjid Jamek. And indeed, they weren't.
Lahore native Osman and his brother Efan, who opened their simple kitchen in 2006, turn out KL's fluffiest hot-from-the-tandoor naan and supple, wheaty chapatis, to eat with a variety of dishes, many of which change by the day. In Lahore, Osman trained as a cook and here, in his rustic back-alley kitchen, he excels at, well, just about everything, including keema, a 'dry' minced meat 'curry' dotted with peas; okra (slime-free and pleasantly toothsome) stewed with onions and a complex mix of spices; and fiery curried mutton tender enough to render chewing practically unnecessary.
Daily specials are the mark of a cook too dedicated to use short-cuts with laborious, time-consuming dishes. Here they include nihari, beef stewed with fragrant cardamom garnished with fresh ginger matchsticks (Sundays), haleem, a porridge made with beef, rice, and three types of pulses that Osman cooks for three hours (Wednesdays), and zarda, milky rice porridge (Fridays). Early risers can breakfast on the brothers' living obscenely (
but delightfully) ghee-laden paratha accompanied by an omelette and a cup of hot Pakistani tea.
This certainly isn't the place to take a first date, unless your date's more interested in food than in you; the surroundings are basic at best and, on a hot day, the waves of heat rising from the tandoor bring the temperature up to something approaching that of Hades. That said, the service here is friendly, the welcome genuinely warm, and Osman, a shy but affable man, obviously derives great pleasure from seeing patrons enjoy their victuals. With Pakistani fare of this calibre, obliging him isn't a problem. Robyn Eckhardt

Details