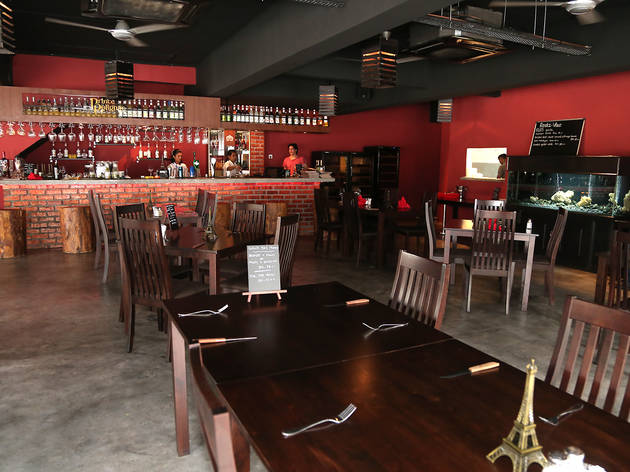 1/5
Photo: Hizwan Hamid
2/5
Photo: Hizwan Hamid
Seafood platter with French spider crab, RM239
3/5
Photo: Hizwan Hamid
Roasted pork tenderloin with porcini mushroom sauce, RM36
4/5
Photo: Hizwan Hamid
Crème brûlée, RM12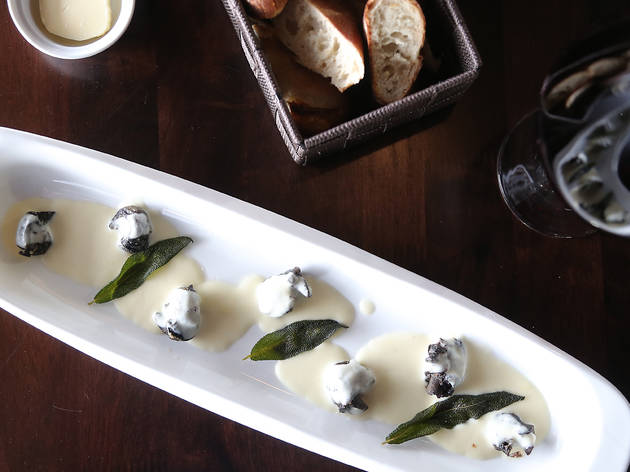 5/5
Photo: Hizwan Hamid
Snails with Reblochon sauce, RM29
Poncy affiliations with French food are thrown out the door at one of 2014's most promising openings. Helmed by Arnaud Chappert and Florian Nigen, the restaurant is a classic French one but in a way that's refreshingly accessible. Though unassuming from the outside, the restaurant plays on location (a corner Bangsar lot) and an honest menu that could easily give restaurants like La Vie En Rose and Yeast Bistronomy a run for their money.

Most of everything is made from scratch by executive chef, Florian, whose inspiration stems from his father's long-running restaurant in Brittany. Proof of substance over style is in the quality of food and prices they come with. The starters alone are immediately enticing – there is fish soup with rouille, onion soup with (pork!) bacon, snails with Reblochon sauce, pate with caramelised onions, goat cheese on toast and parma ham on melon. In the mains, meats shine with entries like beef cheek bourguignon, pork tenderloin with porcini mushroom sauce, duck breast with raspberry vinegar sauce, and black pork sausages with apples. Prices start from RM29, unheard of this side of France.

On a weeknight of sole meuniere cravings, sole meuniere can be had. Or a salted cod fish brandade if you prefer, or mussels and fries. All without having to fork out RM150. It really is quite a remarkable feeling if you're into French food. A note: The restaurant prides on meat and seafood; vegetarian options are few and far between on the menu. Another note: A new quiche type is baked daily and sounds like something you'd want for lunch at RM18.

Meanwhile, the Brittany-style seafood platters are a goldmine of great things. Starting from RM119 for two, there are oysters, langoustines, whelks, prawns, winkles and cockles. If you want to whip out a bit more cash (you'll want to), the French spider crab is a thorny-shelled treasure of sweet flesh and creamy roe. All seafood are simply boiled and served with little tubs of soft butter – the only occasion in KL you can get away with using your fingers to eat French food. And once you've had your hands deep in shellfish, you'll wonder why you ever bothered eating French food any other way.
Venue name:
Rendez-Vous
Contact:
Address:
100 Lorong Maarof
Kuala Lumpur
59000

Opening hours:
Tue-Sun, 12noon-3pm; 6pm-1am
You may be interested in: