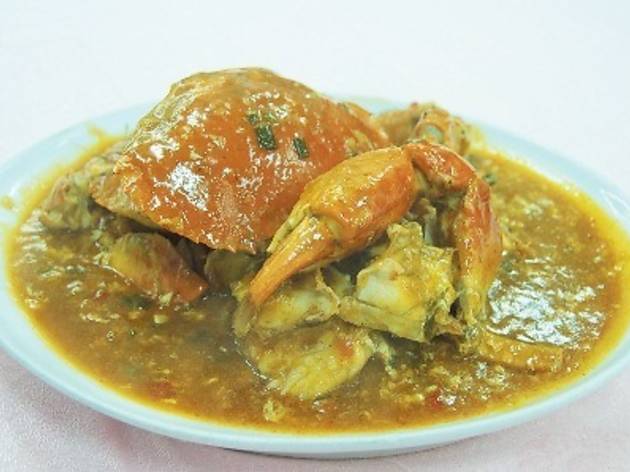 January 2013
Green View occupies a firm place in PJ's stellar round-up of seafood restaurants. But the rumours have been growing – discontented mutterings that the restaurant, grown complacent on the crowds of hungry crab-eaters, was overcharging, ripping people off for shellfish that cost half the price last year.
If people really are pissed off, we couldn't tell from the restaurant on our visit – on a weekday night, the place was packed to the rafters, with plates and plates of crab going past, wafting deliciously scented steam. The restaurant itself has remained unchanged for over five years – the same tiled floor, the same basic chairs, the same rickety tables covered by new tablecloths. But you don't come here for the decor, you come for the seafood.
A true price test would be remiss without the reigning champion of expensive Chinese seafood dishes, sang har mien. And it could be that Green View is listening and responding to rumours, because upon ordering, the captain asked us which type of prawn we preferred – the expensive dragon prawn (RM180 a pop) or the normal prawn. At the risk of seeming stingy, we went for the normal prawn, and luckily too, because it was huge.
They arrived crowning a nest of noodles, rich trickles of roe running down their sides. There wasn't a huge amount of presentation going on – we can imagine the whole lot being poured unceremoniously out of a wok – but who needs presentation when you've got prawns? They were sweet and crunchy, and perfectly done; a minute longer in the pan and they'd have been tough and chewy. The sauce was enriched with egg and the briny sweetness of the prawn, managing to avoid the dreaded gloop often associated with sang har mien. The noodles were perhaps a touch soggy, soaking up too much of the sauce to remain crunchy and texturally distinct from each other and the limp scattered chives.
We also ordered pork ribs, stir-fried kailan and fried rice which proved superfluous to our meal – the sang har mien was definitely and deservedly the centrepiece. For those interested, the pork ribs were tender and coated in a sweet, cinnamon-scented sauce, while the kailan was crunchy and fresh. No better or worse than any standard Chinese restaurant.
And then the bill. For a meal for two (big eaters), it was a little steep. But we'd have paid the same at a mall-based restaurant, and for not much difference except a carpet. So, no complaints. But always ask the captain before you order. Emma Chong
Awards
Food Awards 2010 and 2011

Green View was shortlisted in the Best Seafood Restaurant category of the Time Out KL Food Awards 2010 and 2011. Our food awards are 100% voted for by the people of KL. This way, we guarantee that popularity and consistent performance is rewarded.
Venue name:
Restoran Green View
Contact:
Address:
6 & 8 Jalan 19/3
Selangor
46300

Opening hours:
Daily, 11am-11pm