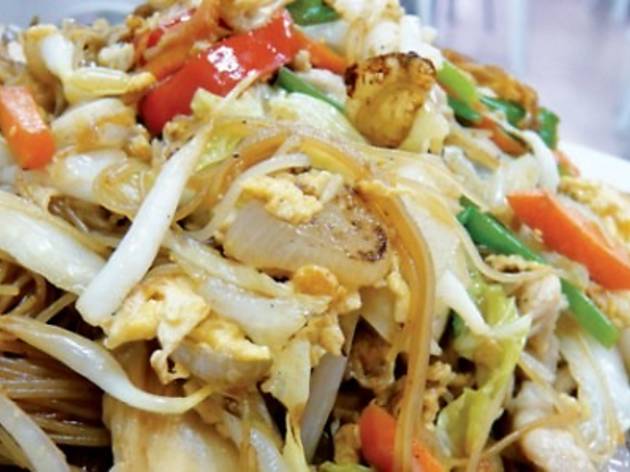 April 2011
In an age when GPS's are ubiquitous, my habit of calling for directions may seem antiquated to some but it serves the dual purpose of foretelling the quality of service I can expect at the eatery, when I eventually locate it. Wai Kei augured well. Despite my call at lunchtime - peak service hours for them - the man who took my call was patient and, bonus, gave me precise directions to the eatery. It took us an unprecedented single try and less than ten minutes to arrive, park and be seated at a table.
Ordering was a breeze - the waiter (whom I suspect is the proprietor and also my telephonic GPS buddy) was more personable than most of the frontof- house staff I've encountered in fine dining restaurants - and the food, when it arrived fairly swiftly after the order had been placed, gave me the distinct impression that I'd won the lottery twice. The claypot stewed pork with salted fish is not recommended for carbo-phobes because the only way it can be appreciated in all its salty, fatty glory is with lashings of white rice. Wai Kei's claypot pork is by no means short of taste, but my memory of the most glorious claypot pork with salted fish in a coffee shop halfway up to Genting Highlands has tainted the pleasure of subsequent proffering, although I live in hope it will one day be surpassed by a rather more accessible eatery.
Yong tau foo with more flesh than a Botticelli babe is another Wai Kei speciality, and it does not disappoint. My dining partner, a yong tau foo aficionado, was so impressed that she ordered takeaway for her dinner. The star of the show however were the curry ribs. The flavours of the curry sparkled as is always the case when fresh coconut milk is used and in the exact proportions requisite to steer it towards perfection. I will dream of it for some time to come. Five drinks, four dishes, one rice, one noodle dish, two chicks. Not too bad. The only thing better than our performance was the bill. RM46. You're going into my speed dial, Wai Kei. Fay Khoo
Venue name:
Restoran Wai Kei
Contact:
Address:
Batu 4 1/4, Jln Kelang Lama 58000
Kuala Lumpur


Opening hours:
11.30am-3pm, 6pm-10pm. Closed on Mondays.
You may be interested in: