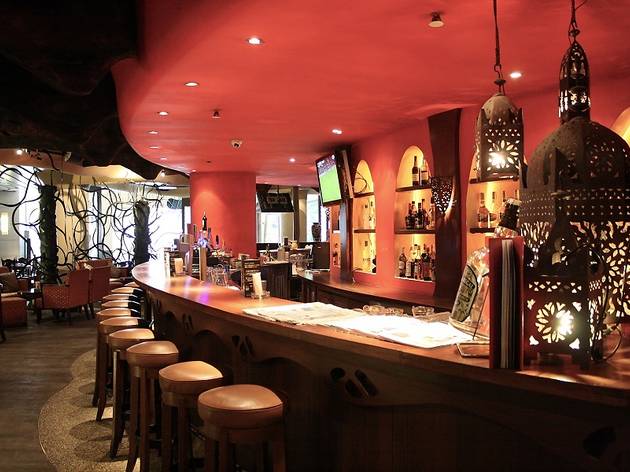 June 2008
Before the food arrived this was down as a '2 star' review. But that soon changed.

The décor is 'authentically Spanish'. As long as by 'authentically Spanish' you mean 'walls are painted orange and a handful of bull-fighting posters are dotted aimlessly around'. The furniture barely fits the theme, likewise the white tablecloths (asking for trouble in a tapas bar where food is meant to be shared and spilt). However, that soon slips from your mind when the dishes start turning up.

A word of caution: if you're not into garlic, choose carefully. Most dishes would make even a Frenchman reach for the breath fresheners. But, as long as you aren't dining with someone whose mouth you intend kissing then all should be fine. Fortunately, I was with my wife.

Sticking with the (not-very) 'authentic' Tapas feel, the food all arrives together, brought by a hugely friendly waitress and waiter, who continually outdid each other on the helpful and friendliness stakes. And what they brought was excellent. The bread rapidly mopped up with a divine crushed olive oil, then the mushrooms (a delicious mix of at least three varieties) gobbled, the shrimps sucked clean, the meatballs devoured and, most outstanding of all, the tiny pieces of lamb in mint sauce were polished off, too. We also shared some Sangria, which although was reasonable, it lacked a little of the head-smacking power of other Sangrias I've tasted. The only disappointing part of the meal was the 'tortilla'.

Perhaps, having travelled through Spain and virtually lived off this magnificent culinary invention for several weeks, I've been somewhat spoiled when it comes to mixing eggs and potatoes. The one at Sentidos was no more than a poor man's omelette. Still, to be fair, the plate it came on was still cleared.

Tapas doesn't have to be about a dark, busy bar, where you count up the number of toothpicks on your plate before passing grubby banknotes to an obese barman with a ropey moustache. I don't think, however, it works as a fine dining concept, which makes Sentidos's location in Starhill a little incongruous. However, it doesn't really matter where it is. What matters is the food. And on that score, Sentidos fully deserves its four stars.

Awards
Food Awards 2009

Sentidos Tapas was shortlisted in the Best Tapas food category of the Time Out KL Food Awards 2009. Our food awards are 100% voted for by the people of KL. This way, we guarantee that popularity and consistent performance is rewarded.
Venue name:
Sentidos Tapas
Contact:
Address:
Feast Village
Starhill Gallery
181 Jalan Bukit Bintang
Kuala Lumpur
55100

Opening hours:
Daily, 12noon-12midnight