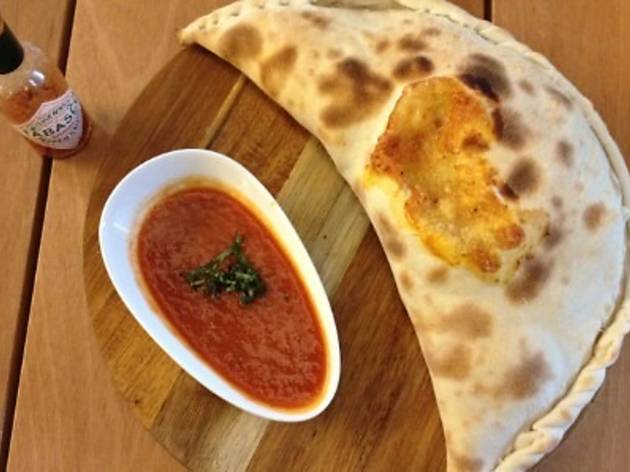 Time Out says
October 2012
Some shoplots are more equal than others in Publika, and Kepong kid Silver Spoon has got it right on its first go, occupying a generous space between crowd-pullers Fatboy's and The Bee. With chandeliers composed of cutlery, light fixtures fashioned out of empty glass bottles and an all-round industrial feel, the Italian eatery has got all the quirky details down to fit into Publika's self-consciously cool environs.
Proceedings started with a Portobello mushroom starter that was pleasant, but forgettable. The Silver Spoon menu comprises a mix of expected and inventive dishes. To wit: they have the standard pepperoni, margarita and Hawaiian pizzas, but you'll fare much better if you go, as we did, for the gourmet pizzas. The smoked duck pizza with poached pear, red onion and Monterey Jack intrigued but we plumped for the calzone, which arrived looking like a giant Cornish pasty. A slice down its puffed up stomach revealed a steaming mix of roasted mushrooms, fragrant garlic spinach, turkey ham (almost indistinguishable from its porcine cousin) and creamy ricotta. Opinion split over the accompanying marinara sauce – I thought it made things a bit pedestrian, but my dining companion ladled it on liberally.
Silver Spoon's chef clearly likes the East-West combo – we dithered for a while between the spaghetti with shrimp tom yam ragu and the curried gnocchi, and were ultimately swayed by the latter's description of 'well blend and supreme taste'. The gnocchi came swimming in a pool of creamy curry, reminiscent of a good (if Anglicised) butter chicken, studded with crunchy curry leaves, tender cubes of eggplant and melting chunks of feta. The restaurant can't be accused of stinginess – the aforementioned abundance of sauce coupled with a generous helping of gnocchi make this a dish more suited to sharing. It could also do with a bit more textural variety, as the feta melts into the sauce and the eggplant and gnocchi become difficult to differentiate. But it's an interesting combination, and comforting on a rainy evening.
The meal was capped with a large crème brûlée and sticky date and chocolate pudding. There were no angels singing, but the desserts were well made and a satisfying end to the meal. It would be a stretch to call Silver Spoon Italian – they massage the definition of traditional pastas and pizzas, and end up with creations very far from the exported Italian ideal. But if you're after an unpretentious, interesting meal, you won't go too far wrong here. Emma Chong
Details