Sister drunken chicken mee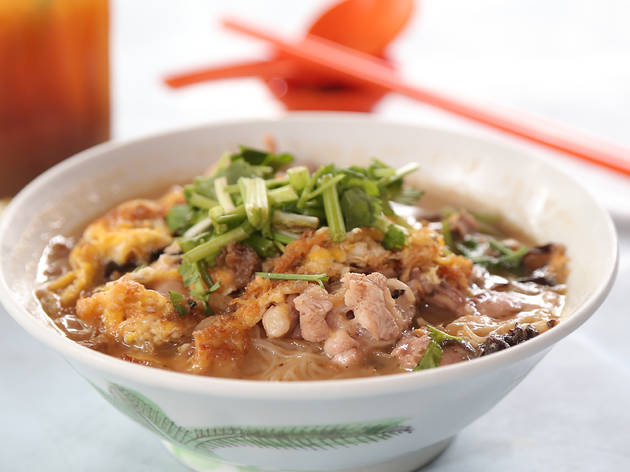 Huang jiu (yellow rice wine) is always added to chicken soup to help postnatal mothers regain their energy. The Yong family took the Chinese wine up a notch with a noodle dish that has lined the bellies of KLites for decades. Buried under a cache of ingredients such as chicken, ginger slices, wood ear fungus and chopped Chinese celery, the parboiled vermicelli achieves a rich depth of flavour from a fastidious simmering of rice wine and chicken broth that's as thick as gravy. Just when you think the dish verges on being healthy, a fried egg with crispy, frilly edges crowns this belly-warming, alcoholic treat.
Venue name:
Sister drunken chicken mee
Address:
Beh Brothers Restaurant
21 Jalan Alor
Kuala Lumpur
50200

Opening hours:
Daily, 7.30am–4pm
Rating Breakdown
5 star:

0

4 star:

0

3 star:

0

2 star:

0

1 star:

1
Go here at your own risk.


I visited this stall, since it got good reviews on the Lonely Planet city guides app.
They served me a geriatric chicken in a broth, which had evidently perished before it got a chance to dip its beak.
I asked for tissues and was told they ran out of them (on my way out I saw boxes of tissues on the tables outside)

I was charged 17 Ringgit. When I asked about it, they argued that it had rice wine, etc. I paid up. On returning to my hotel, I checked with the guide, which put it at 6 Ringgit.
And the taste, well definitely good at 6 Ringgit. At 17 Ringgit, no way!