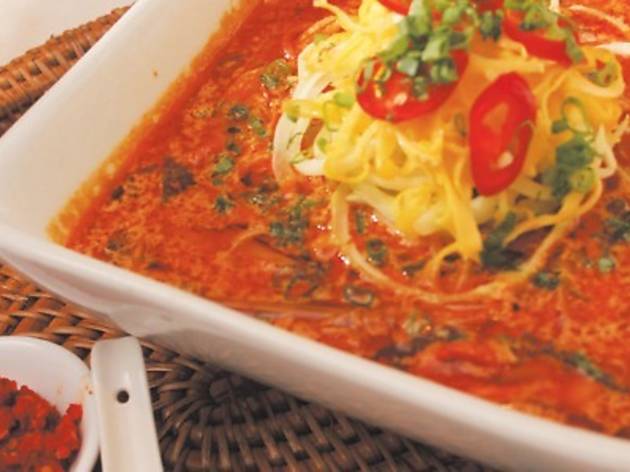 Time Out says
August 2009
Top Hat is back with a new location in a well-preserved colonial bungalow at the crossroad of Jalan Kia Peng and Jalan Stonor. Continuing its signature Peranakan and Western menu, Top Hat's new home reflects that East meets West character. Admittedly smaller than the previous location, this new place is warm and cosy, much like a humble home of a modern Nyonya. The main dining room on the ground floor overlooks a well-tended garden with Koi pond.
The restaurant's eponymous dish, a savoury mix of shredded vegetables (mostly Chinese turnip and carrot) in a pastry shell, was still as good as we remembered it. The filling came piping hot and the pastry was thin and crunchy.
Although Top Hat is known for its chicken and mushroom pie and chef's signature oxtail stew, we decided to give them a miss and instead ordered two noodle dishes as our mains. The Nyonya laksa, as we were told is the owner's family recipe, is extremely rich and creamy as it should be. While it might receive the approval of health conscious eater, we particularly liked the coconut curry gravy. And it is a main no doubt, especially with the added condiments of prawns, chicken and bean sprouts.
When the fettucine with spicy Thai seafood was served, we must admit the dish looked disappointing due to its lacklustre presentation. We expected something more vibrant and fiery. But surprisingly, what it lacked visually was pretty much compensated by its fragrant flavour. While most Thai-inspired pasta can get too cloying with its excessive tom yam sauce, this was light yet you could still taste the herb-infused spiciness.
The accompanying fish cubes, mussels, squid and prawns were generously portioned as well.
To our delight, there are as many dessert selections as the mains. We decided not to be greedy and instead opted for the homemade chocolate truffle ice cream. It turned out to be an excellent choice. The texture was so rich that we felt like we were biting into icy gooey chunks of chocolate. For that, we think this dessert alone deserves the three-star rating.
The food at Top Hat is unpretentious. It is simple, much like a home-cooked meal. You might think that the price is on the high side considering its unimaginative presentation (especially if you are used to fine dining in KL where most restaurants are very particular about the visual aspect of a dish). But judging from its slightly older crowd, most of which are regulars here, the food at Top Hat has undeniably won over many hearts. VS Dhanesh
Details