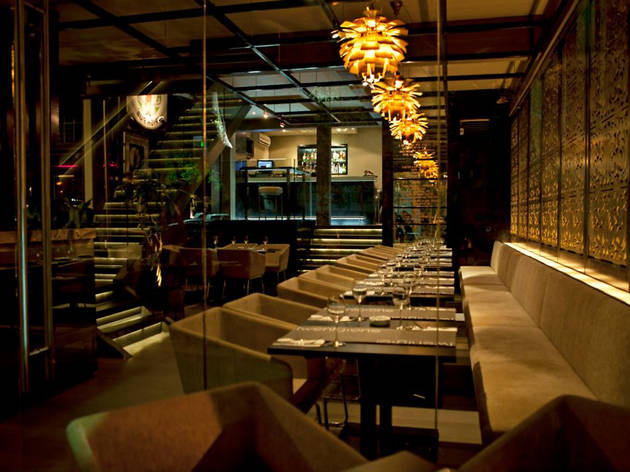 Time Out says
June 2008
twenty.one isn't so much a restaurant as it is a multifunctional cultural hub: a combined restaurant, bar and club venue with an excellent balcony space to boot. You can chew your way through some serious grub too (fish and chips, lamb shank, roast chicken, anyone?). That doesn't mean serious in the sense of overwrought, fine dining stuff. The menu's perfectly judged and resists the temptation to impress with technical wizardry. They know when to leave well enough alone and when to give the dish a contemporary nudge.

Consistently excellent, twentyone's kitchen, to my mind, produces some of the best food in the whole of the Bukit Bintang area, which is some compliment. On a recent visit, friends and I settled downstairs, trying to avoid eye-contact with the disconcertingly huge mirror that dominates one wall, while (thankfully inobtrusive) revelers went upstairs.

It seems extraordinary to me that a happening nightspot could produce such wonderful food. And from such a bold menu. Not one ingredient or technique appears to have been sacrificed in their pursuit of creating a fashionable, sophisticated and cosmopolitan venue for a great evening out.

We began with a variety of soups and salads from their starters list (labeled 'x' on the quirky menu), served efficiently and were crammed with taste. The stand-out was unquestionably the mango salad with tiger prawns. The prawns were huge and the sweet and spicy flavours complimented each other well.

The mains were even better. Between us, our main courses ('y' on the menu — can you see the theme yet?) were the sausage and mash, with beautiful soft potato and delicious sausages from Rawlins; a gorgeous chicken pie with light pastry; a perfectly cooked, tender steak; and my marsala chicken.

This was a brave decision on my behalf as it is not a meal I would normally go for. But how glad I am that I trusted my instincts. The tandoori-style chicken was of the highest quality and served on top of three large pasta bows with garlic filling. On top was fresh rocket and tomatoes and all this sat on a superb light, minty yoghurt dressing.

The tastes complimented each other perfectly and, as with all the other dishes, the generous portions were not so enormous that we didn't find room for dessert.

In my case, I rounded the meal off with apple crumble, which appeared in an unusual filo pastry case. Normally, I'm a crumb kinda guy, but given how good the rest of the meal was, I'm prepared to forgive them this transgression. The upside down cheese mousse is an interesting concept that I think really worked. At least, my friends empty glasses certainly suggested as much.

We spent a while chatting over coffee, which took the bill over RM400 in total but for a main course and drink you could easily spend less than RM50 a head. And for the standard of cuisine you receive, there can't be many better value restaurants in the city.
As featured in Time Out KL's 101 things to do in KL
Awards
Food Awards 2009, 2010, 2012 and 2013

twenty.one kitchen+bar was shortlisted Best Western in the Time Out KL Food Awards 2013. It was shortlisted Best European in 2012, Best Continental Restaurant in 2010 and Best Fusion / Contemporary Restaurant in 2009. Dan Thompson and Richard Holland were also nominated for Restaurateurs of the Year in 2012. Our food awards are 100% voted for by the people of KL. This way, we guarantee that popularity and consistent performance are rewarded.
Details