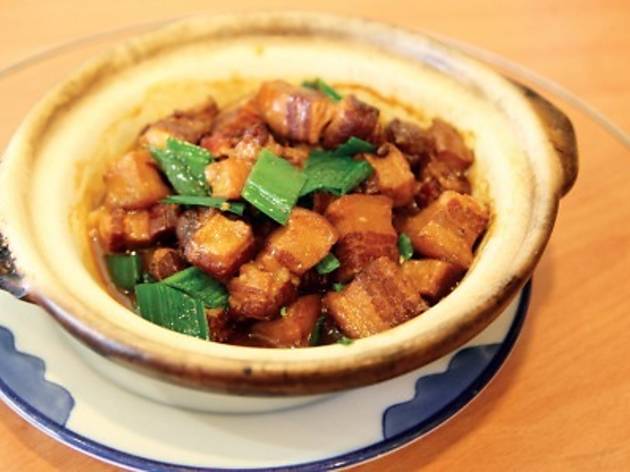 May 2012
If you're a fan of Szechuan cuisine, then Hunanese fare should be right up your alley. However, restaurants specialising in food from the Southern province of China are few and far between in the city, which brings us to the rather elusive Xin Dong Ting. Located in the street just behind Berjaya Times Square, this nondescript Chinese-style restaurant serves Hunanese dishes that are deceptively spicy. For instance, the duck feet looked unassuming enough as an appetiser, but the uncomfortable stinging and burning sensation on the lips after a bite was swift and immediate. Not as juicy as chicken feet and definitely not as appetising.
Mo's family stewed pork in claypot, which came highly recommended, tasted like a variation of the red-braised pork I once tasted in Beijing, a dish which was made famous by Mao Zedong, who used to order his Hunanese chefs to prepare it for him. It was hard to overlook the garlic and dried chillies that contributed to a flavoursome dish which packed quite a punch. The fat pork bits were sweet and succulent, but the thick broth's overwhelming sizzle detracted from its savoury taste.
I would've liked to have finished the meal with the boiled pig's stomach and pepper seeds soup, but by that point in time, my palate was as numb as a statue. The food may have won this round, but I'll be back again. Armed with some chilled Minute Maid.
As featured in Time Out KL's 101 things to do in KL
Venue name:
Xin Dong Ting
Contact:
Address:
194 Jalan Changkat Thambi Dollah
Kuala Lumpur
55100

Opening hours:
Daily, 11am-11pm