Best cold-pressed juices in KL
Not all juices are created equal. If you're going to drink your calories, make sure you try these top six cold-pressed juices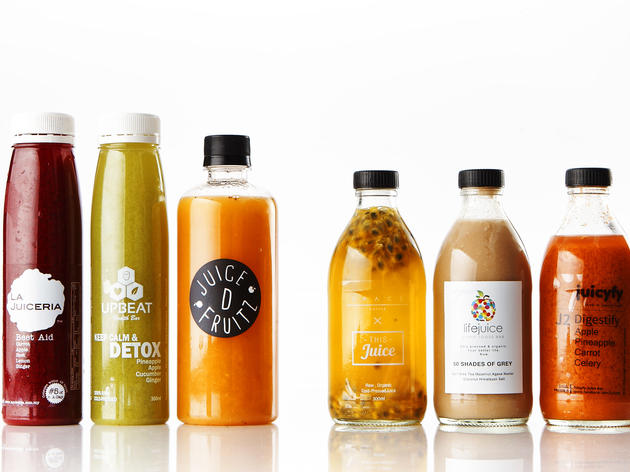 What is cold-pressed juice?
First, understand the difference between a traditional centrifugal juice extractor and a cold-press juicer. The former, which uses a fast-spinning blade to extract juices via centrifugal force, is the more common type of juicer. What you don't realise is, these fast-spinning blades generate heat, thus overheating and oxidising the juice, resulting in nutrient loss. The cold-press juicer, on the other hand, 'presses' – not shreds – the fruit or vegetable between blades for the highest juice yield, so only little heat is introduced in the process. In other words, not only will you get more juice out of a cold-press juicer but you'll also get to keep the nutrients too.

1. La Juiceria
Beet Aid (Carrot, apple, beet, lemon, ginger)
Taste If people have been telling you that beetroot tastes like dirt, they've been lying. Yes, it's earthy, which is exactly why you need the sweetness from apples and carrots. A hint of ginger should chase the smell away.
About the brand One of the co-owners of La Juiceria, Hong, was running an online company retailing fresh vegetables before teaming up with his partners to set up a physical store peddling bottled juices. If you're into juicing at home, La Juiceria also sells the Korean Hurom slow juicer, which uses an auger to squeeze fruits and vegetables into juices.

2. Upbeat Health Bar
Keep Calm & Detox (Pineapple, apple, cucumber, ginger)
Taste Boasting a healthy green hue, the juice looks vitamin-packed. It's an instant mood-lifter, pepped up with a pleasant gingery heat at the end.
About the brand What sets Upbeat apart from its peers is the selection of protein shakes and freshly blended smoothies using healthy ingredients such as Greek yoghurt, green tea, honey, blueberries and soy milk. It's located just next to the Fitness First gym in Avenue K, so if you're seeking a midday booster, now you know where to look.

3. Juice D' Fruitz
Lovely Lady (Pineapple, orange, red apple and strawberry)
Taste Thick, sweet and pulpy (we're serious, you can even chew on juicy chunks of strawberries), Lovely Lady is a smooth drink that's recommended for its skin boosting benefits.
About the brand SetiaWalk juice bar Juice D' Fruitz processes cold-pressed juices (usually served in conical flasks) upon order.

4. This Juice Co
Passionate (Passion fruit, raw honey, lemon, alkaline water)
Taste Passion fruit flavours take centre stage here, while raw honey and a hint of lemon provide the right balance. Crunch on passion fruit seeds as you chug this metabolism-boosting juice.
About the brand The folks at this Juice Co source organic fruits from their uncle (a fruit supplier), ensuring we get the best of the crop. Without a physical store of their own, This Juice Co juices can be found at Project Space Coffee at SS15, Sevencupscafé in Empire Damansara, and BRATS at PJ.

5. LifeJuice
50 Shades of Grey (Earl Grey tea, hazelnut, agave nectar, coconut, Himalayan salt)
Taste 50 Shades of Grey is cold and creamy, scintillating to the senses. Taste-wise, it's more teh tarik than juice – almost veering into dessert territory. It's blended with agave nectar for sweetness, and coconut and hazelnut for smoothness.
About the brand LifeJuice is intent on saving good people from bad juice – and from bad juice names. The bright, tiny bar whips up fresh, never-frozen drinks with names like Beet-le Juice, Green-Tox and Nutty Professor.

6. Juicyfy
J2 Digestify (Apple, pineapple, carrot, celery)
Taste You are hit first with the distinctive, piercing smell of celery – but the blend is fairly mild in taste, and pulp-heavy in texture. The sweetness of apple and pineapple is lightly spiked with the bitterness of celery.
About the brand Their shop is plastered with posters and inspirational quotes. The juice bar is also a café, serving all-day breakfast, panini and pasta, as well as gelato, coffee, tea and smoothies.
Juice delivery services in KL