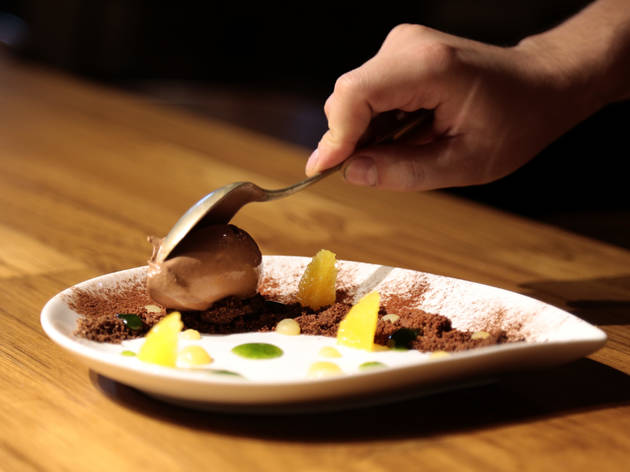 1/6
Photo: Daniel Chan
Cili padi chocolate ice cream
2/6
Photo: Daniel Chan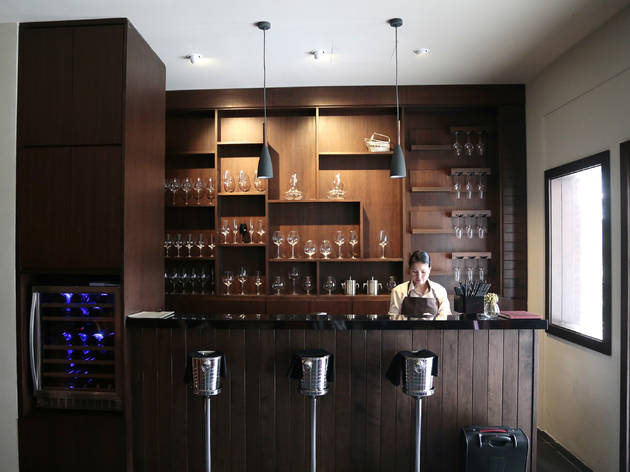 3/6
Photo: Daniel Chan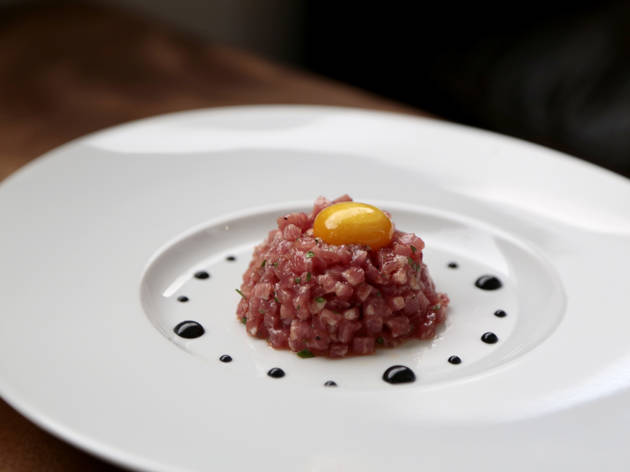 4/6
Photo: Daniel Chan
Iberico tartare with mango yolk and charcoal mayonnaise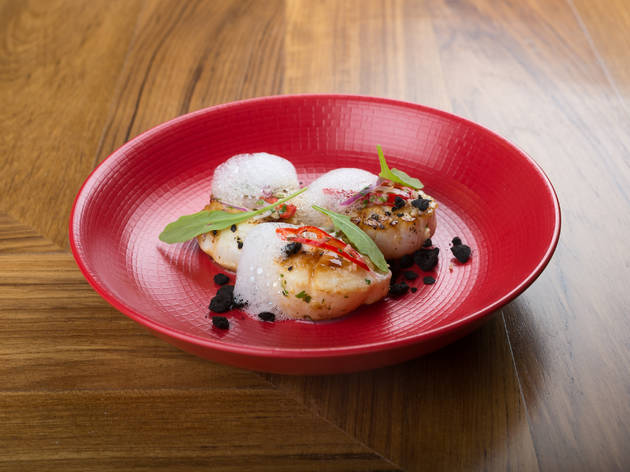 5/6
Photo: Daniel Chan
Hokkaido scallop ceviche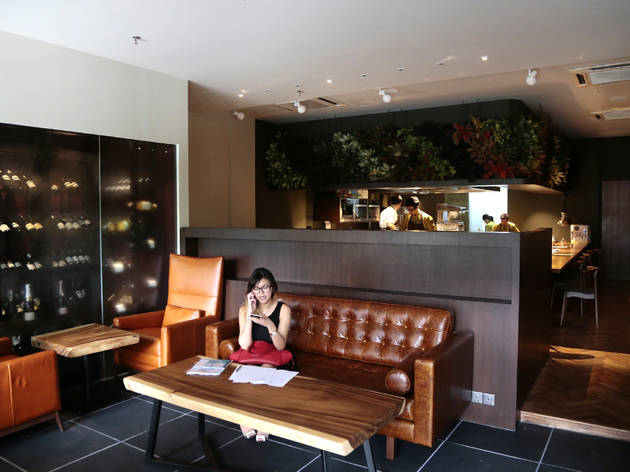 6/6
Photo: Daniel Chan
Time Out says
Note: Coquo is now closed.
Headed by Toni Valero – the Spaniard chef famed for impeccable Spanish cooking at the (regrettably) now-closed Ohla Tapas cocktails and bar – Coquo is one of KL's most lauded modern dining venues.
Step through the wooden sliding doors, where an elegant, dimly-lit room of leather couches and an impressive wine vault awaits. Livening up the space is a black and white Banksy-inspired mural by Thomas Powell, featuring a food fight between greats such as, among others, Louis Pasteur, Audrey Hepburn and, interestingly, two of Valero's former bosses – Joan Roca and Andoni Luis Aduriz (of El Celler de Can Roca and Mugaritz respectively, both regulars of annual World's Best Restaurants lists). The highlight of Coquo is the open kitchen, where Chef Valero and his team reign supreme. For the best view, perch here to witness Chef Valero in action.
Meaning 'I cook' in Latin, Coquo is refined, sure, but this isn't a fine dining restaurant. Co-founded by Chef Valero and Tricia Kandiah, Coquo is modern dining with accessible prices. Appetisers start at RM22, the most expensive main (a Rubia Gallega prime rib) is capped at RM88, and every else in between priced comfortably below RM40. A glance at the menu (separated into categories: 'to bite', 'to share' and 'to finish') reveals a suggestion of Spanish influence with noticeable use of local produce and Asian ingredients. Case in point: Pulau Ketam razor clams with Pedro Ximénez-infused brine; tuna tataki with pucuk paku; baby squid tempura with sambal foam, and curry leaf ice cream with jasmine green tea gelatine and strawberry Szechuan black pepper. New menu additions: lemongrass and pandan pannacotta, pangkor sardines with charcoal confit tomatoes, Sarawakian caviar with prawn crackers and prawn carpaccio in an interpretation of Sarawak laksa, and more. This is Chef Valero flexing his modern cuisine techniques with a good dose of respect for local produce.
The comforting yet gastronomically challenging surprises are impressive. First up, ibérico tartare: a golden mango 'egg yolk' (formed by way of spherification) nestles atop finely chopped secreto ibérico for a sweet and tangy hint, while dots of jet-black smoky charcoal mayonnaise balance everything out. Then there's a slipper lobster ceviche, served with black olive crumble, calamansi and delicate coconut water foam. An interesting new menu item: snapper with fish stock, chrysanthemum and lemongrass mash. Another highlight is the cili padi dark chocolate ice cream (made with 80 percent cocoa) with mint gelée, green apple compote and crumbly coffee soil. In terms of wine pairing, Peruvian sommelier Gustavo Arriaga (also previously of Ohla) keeps things interesting with a specially curated selection of international wines.
Details