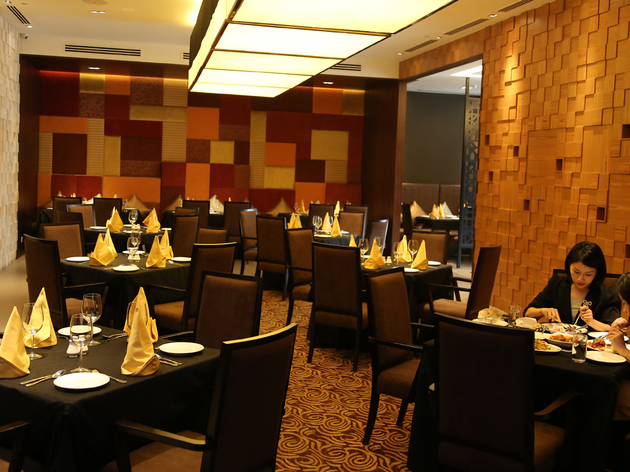 1/7
Photo: Hizwan Hamid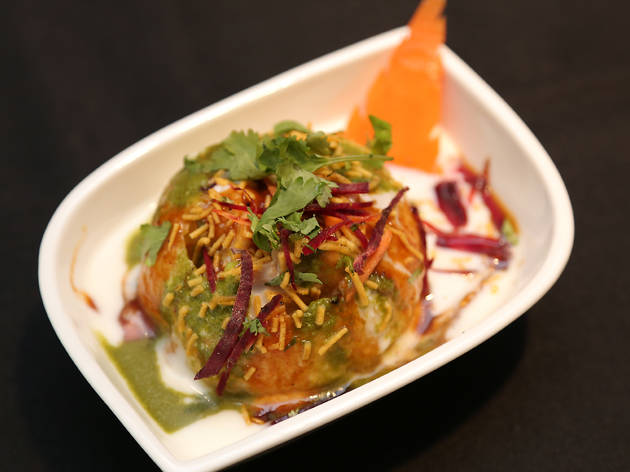 2/7
Photo: Hizwan Hamid
Raj kachori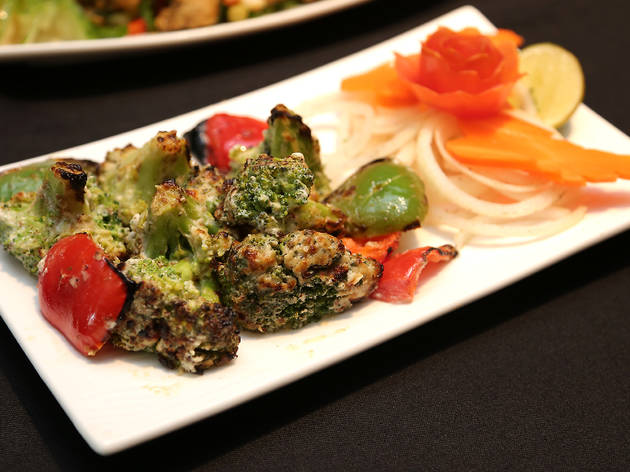 3/7
Photo: Hizwan Hamid
Tandoori brocolli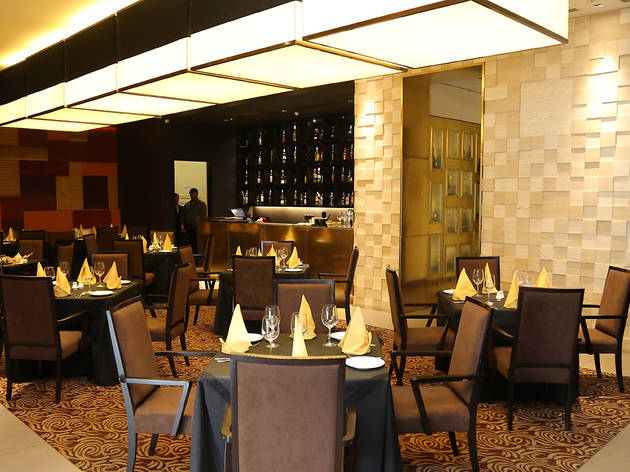 4/7
Photo: Hizwan Hamid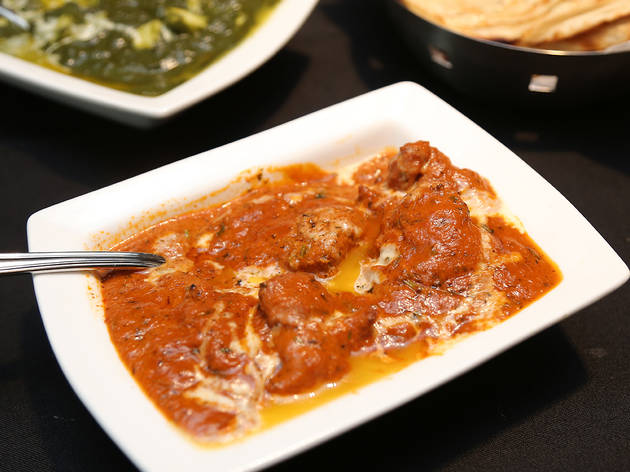 5/7
Photo: Hizwan Hamid
Butter chicken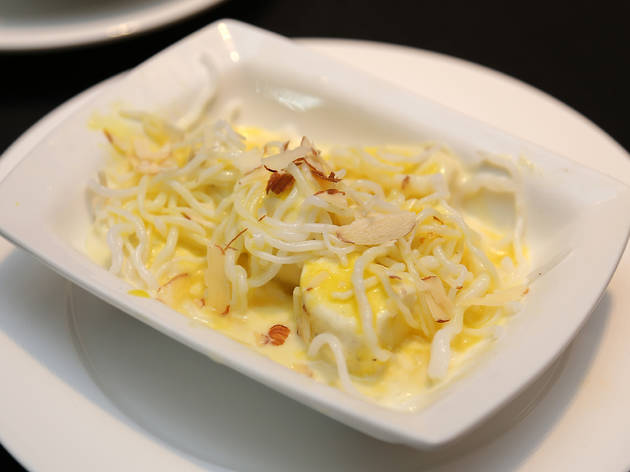 6/7
Photo: Hizwan Hamid
Plain kulfi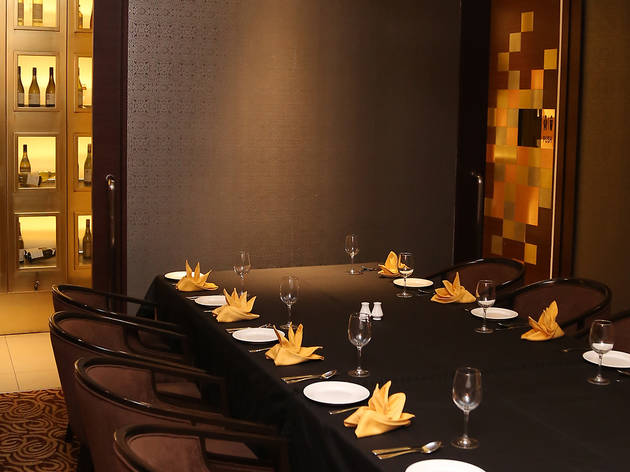 7/7
Photo: Hizwan Hamid
Time Out says
I must admit, Delhi Royale put me off when I first find out that they claim to fall within the 'fine dining' tag. Newsflash: Simply serving well-executed food in an embellished setting does not grant one a plaque by the Michelin board. Armed with these scruples, I'm well strapped on my high horse – but fall off as soon as the first starter hits the table. I learn very quickly that something as piddling as genre matters very little with food this good.

But first, there's no going around it – Delhi Royale's interior is tacky. The golden light it seems to eternally bathe in, the hotel chairs, the heavy napkins folded into baby swans, the burgundy velvet carpet – it's all painted like a venue to host affluent batik-shirted businessmen in the '80s. Don't worry; you'll feel all of this in the bill.

Despite its upright posture, Delhi Royale attempts to appeal to the everyman by way of a menu that crams in just about every single food item that exists in India's north. This, as one always learns in an Indian restaurant, is not a good thing. It's a thesis of a menu – page after page of tikka varieties, paneers, soups, dhals, koftas, tandoori platters, kebabs, curries and breads. The tricky part? They all sound bloody good.

The waiter – a terrifically shy gentleman with the best of intentions – aids my ordering woes with four words he's deemed conclusive: 'Everything is good, ma'am.' After what seems like the length of a Hindi movie, I think I order the right things. The paneer papadi – sticks of cottage cheese dipped in spiced cornflour batter, rolled in lentil crackers and deep-fried – is like a spring roll but much, much better. Imagine stuffing cheese into a rolled papadum; now imagine the paneer papadi.

The showstopper of the night is the tandoori broccoli, which I presume to be broccoli marinated in a tandoori spice mix and charred in a clay oven. The real thing trumps my juvenile assumption so hard: Florets of broccoli are basted in masala paste that's been thickened with an ingredient one rarely associates with greens – cashew. It's rich, it's nutty, it's crunchy, it's broccoli with attitude. I blame the long menu, but I order a third starter for a dinner for two. Thankfully, it's the raj kachori – deep-fried parcels of potato and sprouts topped with a frenzied eruption of crispy sev sticks and careless dribbles of curd and chutney. It's a Delhi street snack on an expensive plate.

Delhi Royale's butter chicken may appear insignificant in an anthology of curries on the menu, but it is exactly the kind of decadence I imagine an Indian emperor devouring while his servants fan him with the feathers of an Indian peacock. The gravy is a balancing act between sweet (from the tomatoes), spicy (from the garam masala) and rich (from the butter) without ever compromising on the cooking of the chicken. The mutton do pyaza – cubes of lamb cooked with lashings of onion – is a bit one-note while the Punjab-style channa (chickpeas) masala is a mildly spiced tribute to big pot cooking. The latter's flavours develop the day after with a squeeze of lime and a side of warm pilaf. Dessert is kulfi, and it's the best kulfi I've had this side of the Indian Ocean. It's milk, pistachio, saffron and cardamom softly frozen into a luxurious square, and it more than makes up for the 'fine dining' price tag.
Details
Address:
33 Jalan Yap Kwan Seng
Kuala Lumpur
50350

Contact:
Opening hours:
Daily, 11am-3pm; 6pm-11pm
Best selling Time Out Offers