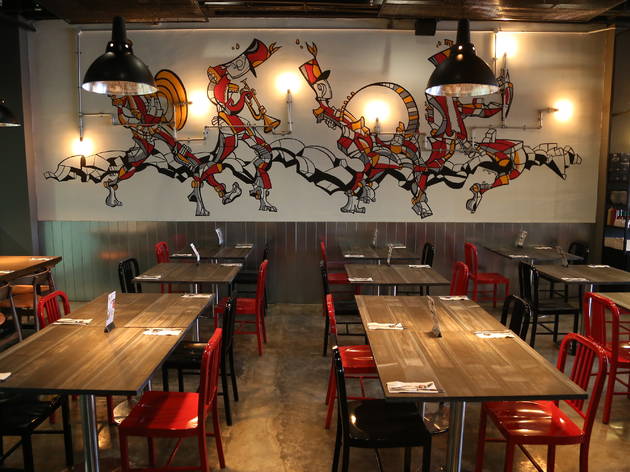 1/3
Photo: Hizwan Hamid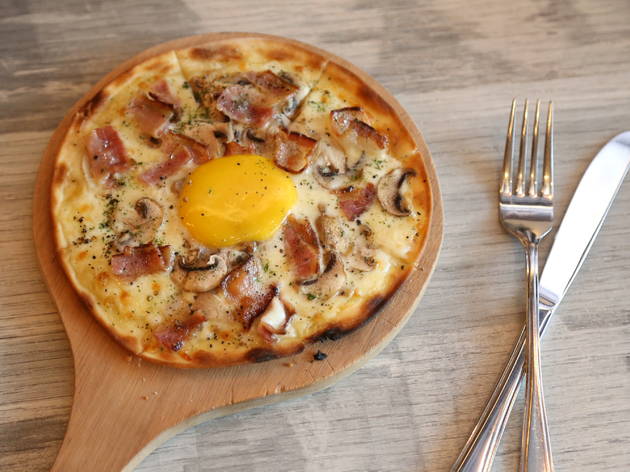 2/3
Photo: Hizwan Hamid
Carbonara pizza (RM13)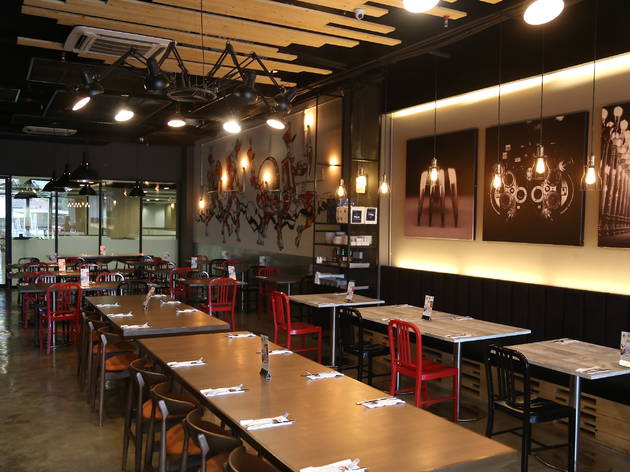 3/3
Photo: Hizwan Hamid
Time Out says
I had heard that Enorme is pork-friendly (check), away from maddening traffic (check), and based on online reviews, pretty good (check). On a fine Friday night, I entered the Italian restaurant about 15 minutes before the last orders clock in at 10pm. I was told to order all my courses in advance, including dessert. So I did. And in a move that indicated that the kitchen staff were ready to throw in their towels for the night, the mains and starters arrived at exactly the same time.

My dining partner and I shifted about to make space for the food, and the mains got cold and weepy as we rushed through the starters. Just as I tucked into my main of risotto, the waiter came about to announce the arrival of dessert. It's a semi-frozen zuccotto, and the pistachio cream around it began to melt into a soggy gloop while I wolfed down my rice and watched in disdain. I was well aware that I visited post-dinner, but there's an hour between the last order (10pm) and the restaurant shut down (11pm). If the timing of my order had inconvenienced the kitchen so momentously, I would have appreciated a forewarning from the staff.

In the matter of food, it fared only slightly better than the service. My starter of caprese salad was generous in portion, which is about the most I can gush about it. The tomatoes were juicy and the pesto a nice touch, but the mozzarella lacked pertness. The seafood soup, meanwhile, was light and sweet but altogether a bit one-note, and a tad overpriced at RM38. I also encountered a single sandy mussel. The carbonara pizza was the best thing I ordered that night. There was bacon, onion and a wobbly yolk in the middle, all of which worked well on a thin, crisp base.

For a fairer review, I visited a month later, this time bang at dinnertime. It turned out to be a more pleasant evening, but not incredibly so. This time, the menu seemed to have been updated in parts, and I landed on the fish. It's cod with a tapenade crust on polenta. The fish was cooked well but it was the bell pepper coulis that carried it. The spaghetti in passata was so unmemorable, I forgot it at dessert. When ordering any pasta on the menu, you're made to choose between four types; this is a chain restaurant move, and is a sign that the kitchen hasn't thought at all about the synergy of pasta and sauce.

Dessert was a lemon tart with whipped coconut cream. Meanwhile, the deconstructed tiramisu was possibly the strangest thing I had eaten all year. It's mascarpone and cream piped into the shape of Madonna's conical bra, circled by cubes of coffee jelly and sponge finger rubble. It's too much cream, too little texture and altogether no resemblance to an actual tiramisu. I don't want a deconstructed tiramisu; I want a constructed one. Or at least, a vaguely enjoyable one.
Details