Famous Seremban Favourites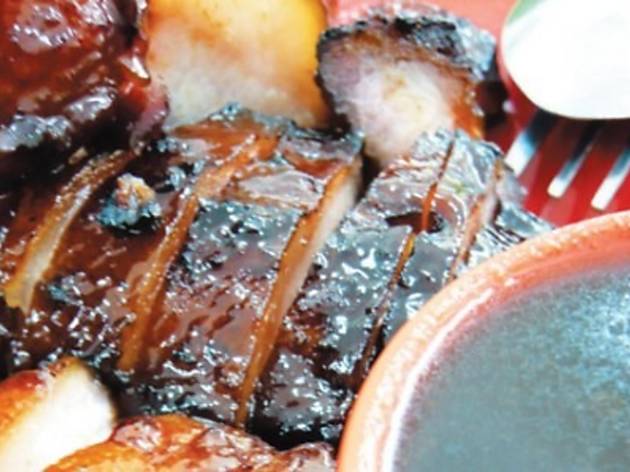 There is only one way to approach a meal at Seremban Favourites, and that's with a stomach that is totally devoid of food, utterly ready to receive a deluge of creamy, unapologetically fatty pork. Attire must be oversized, with pants that can be loosened, and a shirt that's baggy enough to hide the muffin top tummy that will be the inevitable and guaranteed result of dining at what is inarguably one of Klang Valley's top char siew eateries. You must get there early in order to receive the best cuts, secure the roomiest table (with the largest surface area to accommodate all the char siew that will shortly arrive, only to disappear just as quickly), and give yourself enough time to ingratiate yourself with the owner (who is a holder of a Masters degree and so is nobody's fool) just because it's the right thing to do at Establishments Of Quality.
Whilst placing your order, do not be sidetracked by other diversions. Yes, there are noodles, roast pork, and a host of other seductive Seremban Favourites on the menu, but your mission is solely restricted to char siew, and that's because it is singularly the best, and only worthy, item to be consumed as if it's your last meal on earth.
Venue name:
Famous Seremban Favourites
Address:
Ground Floor
Sunway Mas Commercial Centre
Jalan PJU 1/3B
Selangor
47301

You may be interested in: