Guide to Indian sweets
We halwa compiled the best of Indian sweets, just in time for Deepavali
Read through our guide to know what to go for the next time you're confounded by an Indian restaurant's mithai display. Remember, take small bites and pair them with a cup of good, strong chai.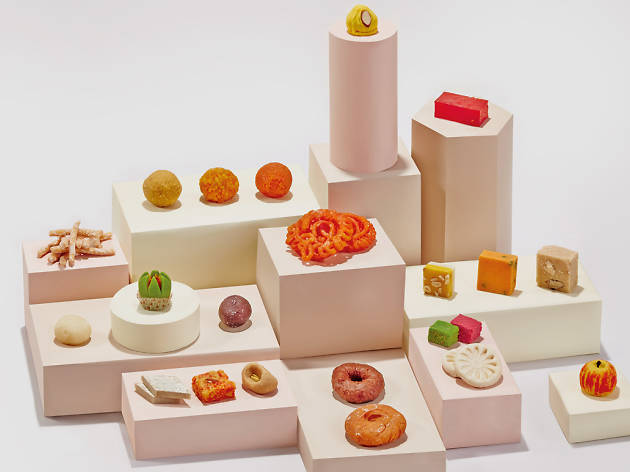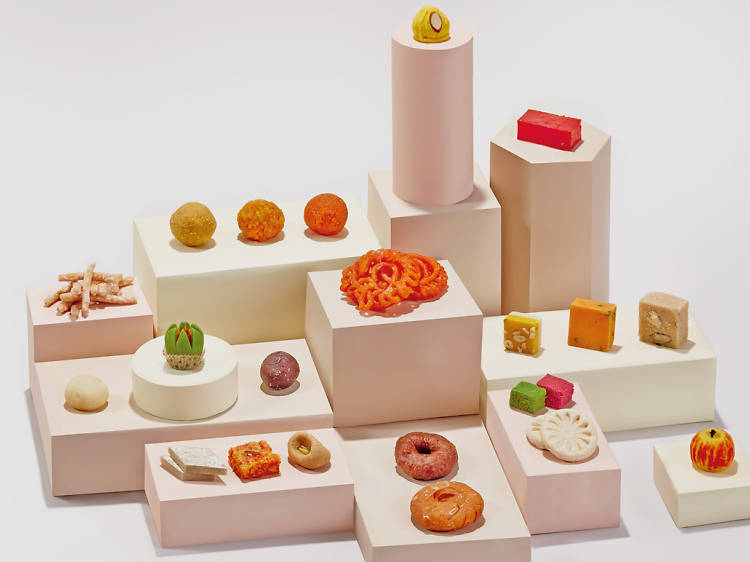 Photo: Shawn Lor/PixelPix; styling by: Joyce Koh; assisted by: Kong Wai Yeng
An indispensable part of major celebrations, religious ceremonies, social gatherings, and also good for a teatime snack, mithai (pronounced as mee-tie) – those vividly coloured Indian confections proudly displayed on restaurant storefronts – are not for the faint of heart.
Those trays of sugar-soaked deep-fried balls of dough and precariously stacked towers of edible silver foil-coated almond fudge diamonds, the dainty flaky sugar bulbs and mountains of squiggly Cheeto-orange coils - these are only some of the most indecipherable desserts we've seen. To help with that, keep in mind that Indian sweets are easily categorised by their main ingredients – milk, fruit, and flour (chickpea flour, wheat flour) – and you're good to go.
Photo: Shawn Lor/PixelPix
While murukku means 'to twist' in Tamil, the sweet murukku is actually a twist of our regular savoury chickpea, rice flour and urad dal (black bean paste) dough coils; they're dipped in sweet jaggery syrup and served in straight matchstick strips. Scarily addictive.
Photo: Shawn Lor/PixelPix
L-R: Besan laddu, Boondi laddu, Motichoor laddu
Besan laddu – A Deepavali staple and common prasad in Hindu temples, these mustard-coloured smooth laddu balls are made of semolina and besan (a type of chickpea that's also known as gram) flour, sugar, ghee, almonds and cardamom powder. The flour is pre-roasted on low heat to get rid of the slightly bitter taste. This gluten-free sweet has a light nutty taste.
Boondi laddu – To make boondi laddu, pearls of chickpea flour are deep fried in ghee and soaked in saffron-flavoured sugar syrup together with cashews, raisins and cardamom powder before being formed into ping-pong sized balls. Identify it by its distinctive texture.
Motichoor laddu – Somewhat similar to boondi laddu, the burnt orange motichoor laddu is differentiated by the fact that it's made up of significantly smaller deep-fried gram flour balls. A special ladle is required to create the tiny pearls, which are then soaked in a sugar syrup with rose water, lemon juice and cardamom before being formed into balls together with chopped pistachios.
Photo: Shawn Lor/PixelPix
Peda are semi-soft milk desserts made from khoya (a dairy product that's made by thickening milk on low heat). Think a soft milk fudge that comes in various flavours such as saffron, pistachio, cardamom and more. This cheery yellow blob is marked by a single piece of almond.
Photo: Shawn Lor/PixelPix
In Arabic, halwa means 'sweet'. And that's one broad definition. With a version existing in nearly every country and culture from, the dense halwa is one popular dessert. While some are nut butter-based (made from ingredients such as pistachios, tahini, sunflower seeds; these are popular in the Mediterranean, Arabic and Middle Eastern countries), this particular flour-based version (made by simmering corn flour mixture in sugar syrup with rose water) is more common in India. Expect a translucent, gelatinous jelly texture that's reminiscent of Turkish Delight. Not quite worth selling your family to the White Witch for, but pretty close.
Photo: Shawn Lor/PixelPix
While it's easy to dismiss this fish ball-looking off-white blob for other flashier desserts, the cottage cheese-based rasgulla is actually one of the more complex sweets on the shelf. Originating from West Bengal, rasgulla is made with chhana (Indian cottage cheese) and semolina dough, and served with a sugar syrup. The next time you're at Jai Hind, give the spongy treat a try.
Photo: Shawn Lor/PixelPix
A tri-coloured cashew-based fudge (red, yellow, and green) that's sliced to resemble a blooming flower. But we think it should be renamed 'kaju melon' instead. Some fancier versions come coated with edible silver foil.
Photo: Shawn Lor/PixelPix
Usually displayed alongside the popular gulab jamun, the kala jamun is basically caramelised gulab jamun. While the gulab jamun (dense, golden balls of khoya and flour) are served with sugar syrup with rose water and saffron, the kala jamun is made with sugar added to the batter. When it's deep fried the sugar caramelises, resulting in its dark, almost black colour.
Photo: Shawn Lor/PixelPix
Easily mistaken for the jalebi, jangiri (also known as imarti in North India) is a bright orange curly coil that's piped into oil in a structured shape of smaller circles around two larger circles; the jalebi, meanwhile, has a free-styling structure that resembles a toddler's scribbles. The key is in the tight smaller circles. More fun facts: the crunchy jalebi is made from maida (wheat) flour with yoghurt while the softer jangiri is made with the healthier gluten-free option of urad dal (black bean paste).
Photo: Shawn Lor/PixelPix
Made from milk solids, sugar, and flavoured with nuts or fruits, the milk-based barfi is a regular in weddings or Deepavali celebrations. Widely popular in Northern India, barfi comes in a range of flavours such as mango, pistachio, almond, chocolate, pineapple and more.
Photo: Shawn Lor/PixelPix
Made with the seemingly simple combination of chickpea flour and sugar, soan papdi is a delightfully fudgy treat with a somewhat delicate texture that's reminiscent of Chinese dragon beard candy. Hailed as a 'complex Indian candy floss', the nutty soan papdi has a cousin in mysore pak, a southern variation that's a dark yellow colour. Both are excellent choices to convert mithai sceptics.
Photo: Shawn Lor/PixelPix
A milk-based treat that's easily recognisable by its edible silver foil coating, this is the sweet to impress guests. Made with finely ground cashew (kaju) nuts, the kaju katli has a fudge-like texture thanks to a tricky sugar syrup consistency. Take tiny bites and pair it with chai.
Photo: Shawn Lor/PixelPix
To get to the root of things, the carrot halwa is yet another member of the halway family and is traditionally used as an offering to the gods on religious ceremonies. It's somewhat similar to a carrot cake, only fluffier and more moist. With bright orange and yellow bits, the carrot halwa (or gajar ka halwa) is a favourite Punjabi recipe - an almost caramelised confection of grated carrots and soft cashews.
Photo: Shawn Lor/PixelPix
Fun fact: 'Burfi', or 'Barfi', is derived from the Persian word 'barf', which means 'snow'. Soft, flaky and powdery, the barfi is yet another all-rounder which comes in a huge variety of flavours. While barfi are usually square or diamond shaped, this chocolate barfi (with a touch of cocoa powder in the dough) from Moghul Mahal has a unique pinched shape.
Photo: Shawn Lor/PixelPix
A labour-intensive sweet made from jaggery and rice flour. Not just any rice flour though, but raw rice that require a week-long preparation process of soaking, drying and grinding (while retaining a certain degree of moisture), and then fermenting in an earthenware pot for three to four days. Technicalities aside, this is one delicious mithai. Be sure to visit as many Indian homes as possible during Deepavali to try this out.
Photo: Shawn Lor/PixelPix
A flaky deep-fried doughnut with South Indian origins, badhusha is a regular during Deepavali. It's made from all-purpose flour and sugar that's carefully kneaded, and then deep fried over a low heat, resulting in a crisp glazed sugar outer layer with a soft flaky inside. Krispy Kreme, you should be taking notes.
Photo: Shawn Lor/PixelPix
Made with saffron-soaked milk, milk peda is a somewhat grainy and soft sweet that's very popular during festive occasions. While it usually looks like a puck-like disc, this version comes with a beautiful flower-embossed pattern.
Photo: Shawn Lor/PixelPix
A variation on the milk-based peda, the apple palkova is basically an exercise in hardcore creativity by Indian sweet artisans to paint the mithai to resemble an appealing ripe apple. Plus, it's even topped with a clove to mimic an apple stem.
Where to get them
Indian sweets, or mithai, are known for their variety and colours as well as their generous use of spice, milk and sugar. Here are the best places to get your fix of laddu, barfi, halwa, gulab jamun and more.