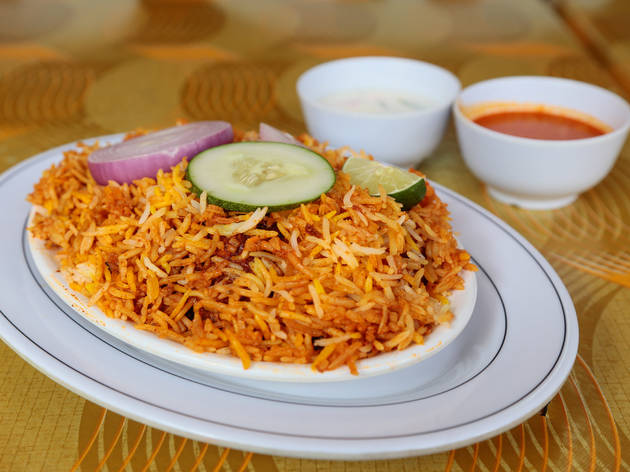 1/2
Photo: Daniel Chan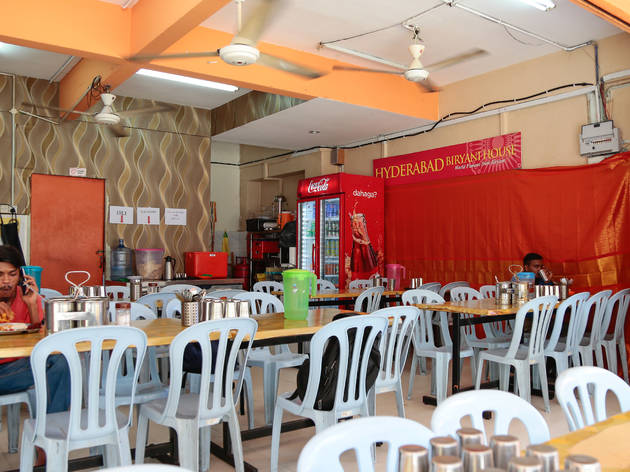 2/2
Photo: Daniel Chan
Biryani, the stately leader of all rice dishes, steals the show at this shadowy alley restaurant. The kitchen – led by a Hyderabad chef – prepares a large pot everyday, an aluminum vessel large enough to fit a crouching teenager, or the ego of three Boris Johnsons. The waiter uses a plastic plate to pile on rice and meat – enough for two – topped with rings of red onion and a wedge of lime.
The biryani (RM15) here is painstakingly layered with rice and meat for the chicken- or mutton-specific versions. At other Indian restaurants in the area, you may find that the rice is cooked separately from the meat, saving the kitchen multiple batches of biryani. If you'd rather a base of yellow rice with meat tossed in, allow me to point you in the direction of a nasi kandar restaurant.
Most importantly here, the rice is very, very good. Each long, slender grain separates cleanly from its peers for soft, fluffy results. It's also difficult to be dispassionate about the saffron-tinted shade of gold that coats the grains, sometimes broken by patches of white from the layering. In between, you'll find chicken or mutton chunks, caked in a thick marinade residue that moistens the rice.
It's wise to pick up a couple of bowls of sides from the display trays, specifically the mutton gongura (RM5) on weekends, a curious blend of fire and tang contributed by the magic of red sorrel leaves. The egg bhurji (RM3) too is worth a try – a dry, scrambled egg dish with loads of diced onions, spices and salt. If you find that scrambled egg is too unorthodox a side for biryani, a gloopy spoonful of brinjal kurma does the trick.
After a feast of rich things, I suggest you complement your lumbering pace with a cup of masala tea (RM1). The hot tea – poured from a flask of the day's brew – comes in thumb-sized ever-silver cups, or about three small sips worth. If good things come in small packages, this is some of the best masala tea you'll have in KL – sweet, full-bodied, mildly spiced and fervently aromatic of fresh cow's milk.
However, a near-perfect meal is clouded by the deliciously rude lady at the pay counter. I encounter her on both my visits at dinnertime; she scowls at every question I have (berapa tahun kedai ni, kak?), stirs up a fuss when I point out that she accidentally overcharges me, and petulantly waves me out of the shop once I pay the correct amount. If you, like I do, associate memories of a restaurant with the people in it, take this as a forewarning.
But by any means, don't let it stop you from making the trek out. Because what's a rude lady when fronted with what will probably be your best Hyderabadi biryani experience in the city?
Venue name:
Hyderabad Biryani House
Contact:
Address:
46 Jalan Berhala
Kuala Lumpur
50470

Opening hours:
Mon-Tue & Thu-Sun, 6.45am-10.30pm