Heads up! We're working hard to be accurate – but these are unusual times, so please always check before heading out.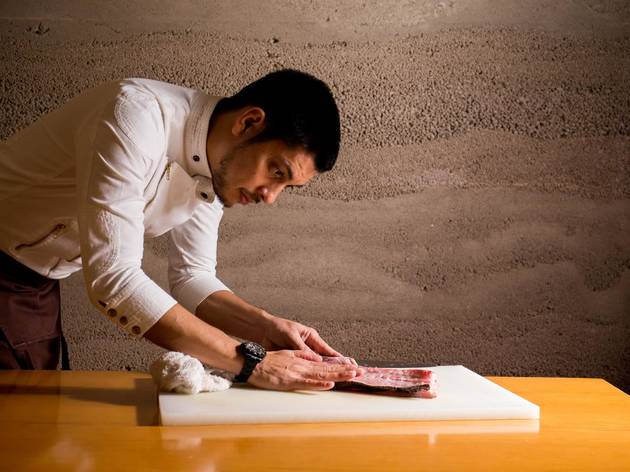 Interview: Jeff Ramsey of Babe
Babe's Michelin-starred Jeff Ramsey tells us about the creative process behind his dishes, the ingredients he's excited about, and what he thinks the KL dining scene needs to improve itself.
American-Japanese Chef Jeff Ramsey is a long way from Tako Grill in Maryland, USA where he first worked his way up from a dishwasher to a full-fledged sushi chef. In the 21 years since, he has gone on to work for some of the world's best chefs, including Masayoshi Kazato, the official Sushi Ambassador of Japan, and Chef José Andrés, the Spanish-American chef behind avant-garde restaurant minibar.
The lessons learned from these two figures inspired Jeff to open Babe, a restaurant that serves Japas cuisine, a fusion of Japanese and Spanish tapas. 'I decided to come to KL because it felt like back home in Washington DC – it's a city that's not too big or small. I felt it was a good opportunity for me to explore the local ingredients here,' he said.
He intended Babe to be playful and inventive, without sacrificing the technical skills expected of a fine dining restaurant. 'I don't consider Babe to be fine dining, which is why we came up with our tagline of "fun-dining". Of course, to a certain level our food is gourmet, but on another level, it's also munchies,' he said.
That approach is evident in the dishes his team creates; for example, jackfruit with foie gras, prawn and curry leaf ice cream, and marinated roast kabayaki ikan keli, which bears a close resemblance to bak kwa. Some of these are featured in a limited-time 12-course festive menu that will be introduced just for the month of June.
We spoke to him to find out more about the creative process behind his dishes, the ingredients he's excited about, and what he thinks the KL dining scene needs to improve itself.
Talk us through some of the dishes you've created for Babe so far: Which one of them was the hardest to make?
In terms of difficulty, the cone on the prawn ice cream was one of the hardest; each one takes about two hours, and they're made by hand. The cone is essentially based off a tuile recipe of butter, egg whites, flour and sugar that's baked with roasted dehydrated prawn heads to create a nicely intense prawn flavour. Another difficult one was the Dinosaur Egg, which is a shell of ice cream made from daun kaduk. That came about when I decided that our desserts should only use local ingredients. The process is really fun when you start off with a premise that you've never done before and you figure out a way to make it work.
The ikan keli (catfish) 'bak kwa' dish came about by accident. It began when I first heard that some Japanese restaurants used catfish as a replacement for eel to make sushi. I sautéed and roasted it on a pan, and the result was something I didn't expect: the fish was dry, tough, and it tasted and smelled like cooked tuna. So I ground it up, marinated it for two days, and spread it out like a sheet to create something like a slice of unagi. It was then that my kitchen staff went 'Hey, this is like bak kwa!' So we tweaked the recipe towards it, and that's how the dish came to us.
Having been part of the KL restaurant scene for over 18 months, what do you think is needed to improve the local dining scene?
It comes down to having very strong reviewers or one media house committed to the developing restaurant scene. There needs to be a stronger voice or criticism; there are many writers here who don't have enough exposure to non-local establishments, and as more restaurants come in, I think the media side needs to grow along with it.
Aside from cooking with local ingredients, you also grow local vegetables and herbs in your rooftop garden. Have you grown anything interesting of late?
The garden is more of an experimental hub for us; I've been successful at transplanting some wild plants, one of which is lavender sorrel, a herb that's indigenous to Malaysia that doesn't taste of lavender [Note: It has a slightly sour taste]. I first knew about it from an Instagram post from a forager, and thought I'd try to grow it up here.
I've been foraging since the moment I arrived in Malaysia; my first intention when I came to Malaysia was to open a restaurant similar to Dewakan, but felt I needed to do something else first – I can't just come in here and assume that I'll learn things just like that [snaps fingers]. Darren Teoh [head chef at Dewakan] is an inspiration to me, and we're working towards having a pop-up next month.
Have you discovered other interesting ingredients during your time here?
Kotek mamak – it's a long, black phallus-shaped seed pod, and I was told about it by the Sultan of Perlis. He came in with his entourage and his cooks were in the kitchen preparing dinner, and I asked what this thing was on the ground. I opened it up, and it was a shiny black inside. When I tasted it, I found that it had a sweet, cinnamon-like flavour, and it was like, 'Wow, this is fantastic'.
So I asked the cooks 'Do you know anything about this?' They said no but that I should ask the Sultan. So I took it to him and he started chuckling with his friends, saying how that when they were kids, this used to be their sweets while they were out in the woods. And when he said the name, 'kotek mamak', they all burst out laughing.
You've won a Michelin star during your stint the Tapas Molecular Bar at Mandarin Oriental Hotel in Tokyo. Personally, what does it mean to be successful as a chef? How important are accolades like Michelin stars in defining success?
At the end of the day, it's the relationships with people that matter; it's about finding the people who like your food, and connecting with them – that will make you happy. But money is important as well, and for business getting accolades is really important, especially when the economy's down. Being notable again draws in the customers.
Being successful is difficult; we have to please the people who know a lot about gastronomy by giving them something they haven't tried before. And then we have people who come in occasionally to celebrate birthdays or special events, and we have to make food that tastes good for them. It's all about finding that balance between the two.
Babe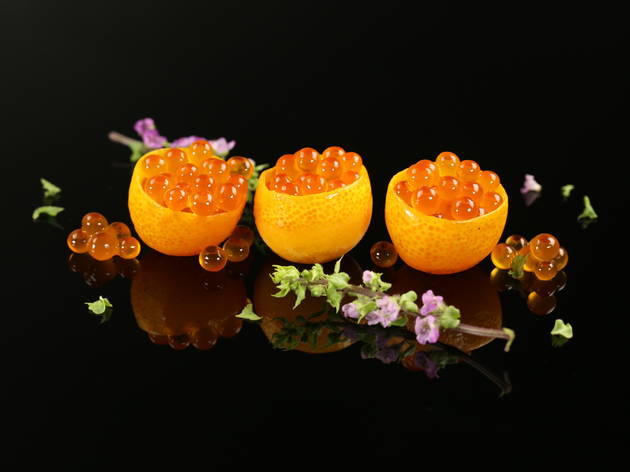 A modernist cuisine restaurant reinterpreting Japanese cuisine through Spanish tapas culture using contemporary food science techniques. Having recently undergone a makeover, Babe now boasts a new sleek interior, a cocktail collaboration with Karl Too of the acclaimed Omakase + Appreciate, and a new menu showcasing the fun, whimsical ideas of Michelin-starred chef Jeff Ramsey. The 12-course Japas (Japanese tapas) Tasting Menu starts from RM300++ per person, featuring innovative dishes such as the BabenDazs, which is a foie gras and VSOP ice cream sandwich.