Kedai Makanan dan Minuman Alison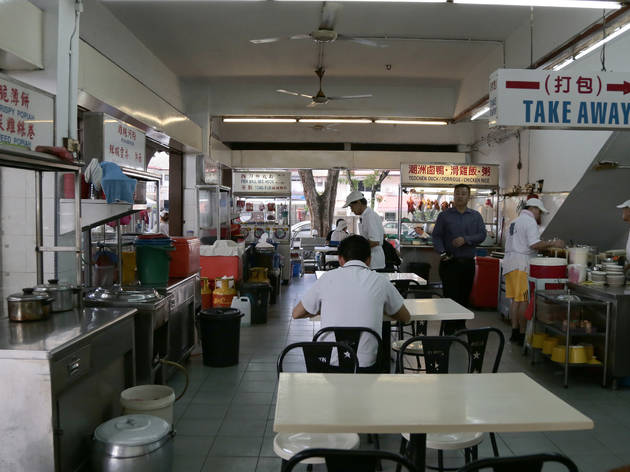 This hawker centre sells a variety of classic favourites including nasi lemak Nyonya, beef noodle soup, pan mee, yong tau foo and chicken rice. The restaurant staff are helpful enough to shout out 'Saman! Saman!' when they see the traffic police making their rounds – in case you need it.
Venue name:
Kedai Makanan dan Minuman Alison
Contact:
Address:
70 Jalan Radin Anum 1
Kuala Lumpur
57000

Opening hours:
Daily, 6am-3.30pm
Rating Breakdown
5 star:

0

4 star:

0

3 star:

0

2 star:

0

1 star:

1
My experience with the chicken rice stall is terrible. Last Sunday, I dapao chicken rice from there, I paid to the aunty. But then, she sent her worker to chase me, saying that I havnt pay yet. So I returned back, to explain and clarify to the aunty. The aunty kept saying I didnt pay. I remember I paid! At the end, she said: 算了,我也不做你那rm6生意了!
Hello Aunty, 现在不是你要不要 而是你已经做了!钱你已经收了,但你忘记,你冤枉我。请问 在你冤枉我之前你是否好好回想过 或者算一下抽屉里的钱?有你这样做生意的?这样对顾客的?你还说:如果我还了,那你也不会叫她(aunty的工人)来追我。好,那我问你,如果我真的存心要骗钱,请问我还会傻傻回来跟你解释吗?
大家,真的,想要跟她做生意以前,好好考虑。我不希望还有下一个受害者。。。
On 25-Nov-16 afternoon, we went to this coffee shop. I ordered a plate of Hakka Mee Noodle and paid him $100 when he served the food. I waited for about 15 minutes and he did not return the change to me and he continued to serve other customers pretending nothing until family member told him then only he willing to return the change to me. You cannot do business like that not honest. We were so disappointed with his service and attitude, we have decided not to go to this shop anymore and will tell our friends about this dishonest shop.