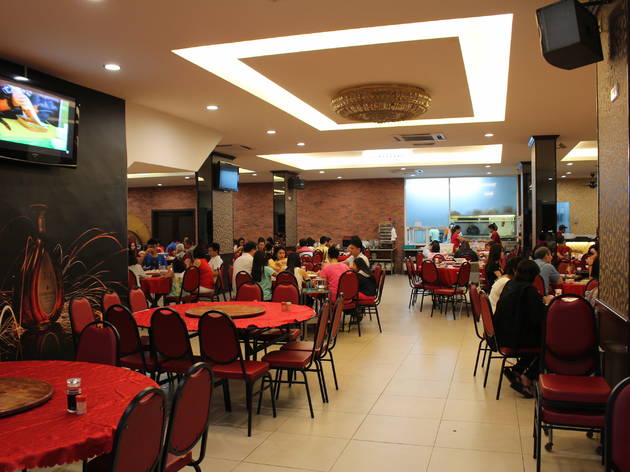 As one of the most highly rated Chinese restaurants in the suburbs of Sungai Buloh, Restoran Lee Hong Kee does not take reservations on weekends. We learnt that the hard way. Arriving at 8pm on a weekend night, we found a sizeable crowd already milling around the entrance, each with a number in hand. We were given number 39 and told to join the queue. As a nice touch, the efficient crew took orders while guests were still waiting in line, so not all was lost then.

We were finally ushered in 30 minutes later, with the food arriving in quick succession. Reminiscent of home-cooked fare, the vegetable soup and home-style bean curd were not very impressive in appearance, but the fresh greens in clear, flavourful broth and soft Japanese tofu in silky gravy were some of the better ones we've had.

However, the tilapia in claypot, cooked with ginger, shallots and a dash of soy sauce, had a slightly burnt aroma. Although the fish was fresh, the overly smoky scent and lack of sauce made it rather dry. Upon enquiring, we were informed that this is how they make it.

Apart from the signature poon choi, Lee Hong Kee is famous for their 'Dong Tok Kai' (standing roasted chicken), which is a whole bird roasted upright on a skewer. Fun fact: 'Dong Tok' means 'stand-up comedy' in Cantonese. And that's the dish we came for. We were given disposable gloves and a pair of scissors to carve the bird, but we spotted other customers going at it with their hands. The process gets messy, but it's all quite fun. The kampung chicken, although on the small side, was nicely roasted: juicy with a crispy finish, and even better with the salt dip.

A low point: one of our orders was sold out and they did not inform us until we were almost finished. However, the rest of the food was good, with a distinct home-cooked touch that's a notch above your average MSG-heavy dai chow. Drop by if you're in the vicinity, and only if you're willing to brave the queue.
Venue name:
Lee Hong Kee
Contact:
Address:
Jalan Kati GU 19/G
Kg Baru
Selangor
47000

Opening hours:
Mon, 11.30am-3pm; Tue- Sun, 11.30am-3pm, 6-11pm
You may be interested in: