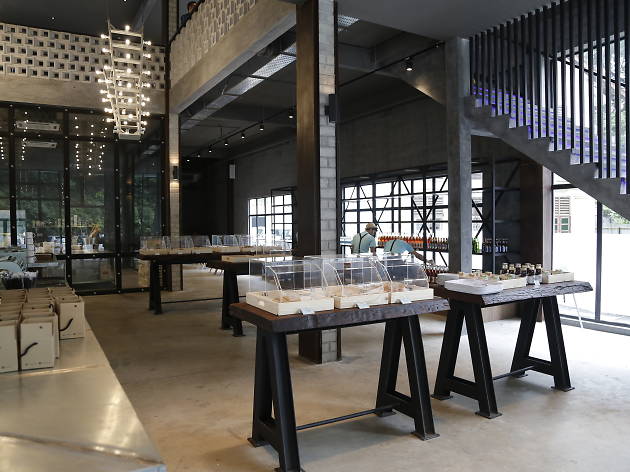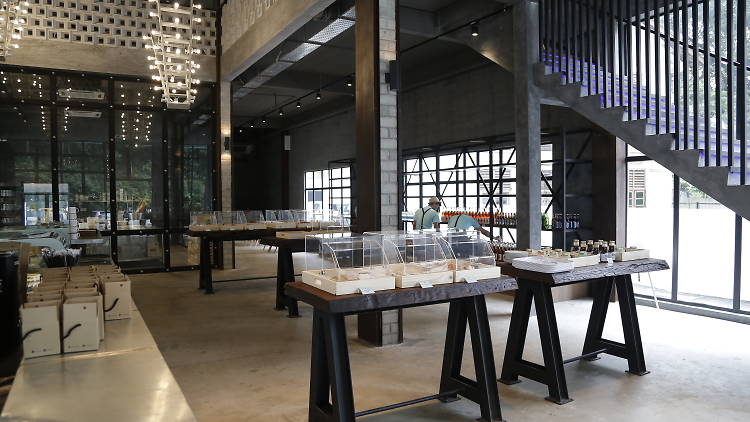 1/9
Photo: Hizwan Hamid
2/9
Photo: Hizwan Hamid
3/9
Photo: Hizwan Hamid
Rainy Day Coffee, RM13
4/9
Photo: Hizwan Hamid
Big Daddy, RM55
5/9
Photo: Hizwan Hamid
Australian lamb rack, RM45
6/9
Photo: Hizwan Hamid
Pan-seared saba, RM29
7/9
Photo: Hizwan Hamid
8/9
Photo: Hizwan Hamid
Nasi lemak cheesecake, RM15
9/9
Photo: Hizwan Hamid
Note: Lepaq Lepaq is now closed.
Will Malaysians never rest until they've found more ways to make nasi lemak a dessert? Cielo Dolci has their nasi lemak gelato, and now Lepaq Lepaq has nasi lemak cheesecake. Those curious enough to make the trip will find themselves staying for more than just the hybrid cheesecake; Lepaq Lepaq is a very good-looking space, giving in to today's trendy industrial-style decor. With two stories, the café is also startlingly spacious (we're told it's a 200-seater) with floor-to-ceiling windows offering a calming view of a quiet Jalan Ceylon – and enough natural light to produce beautiful Instagrams. Tip: Go upstairs and sit at the 'outside' smoking section for best results.
For food, Lepaq Lepaq has a rotating daily menu of mostly Western staples like pasta, sandwiches and meat and fish dishes prepared by their in-house chef. From Friday to Sunday, the menu is expanded to include several upgraded versions of eggs Benedict, including a very luxe-sounding Ikura and Caviar Benedict. For group dining, order the Big Daddy, a huge breakfast platter comprising truffle scrambled eggs, three types of sausages (footlong, smoked chicken cheese and lamb cranberry), hash browns, turkey and chicken ham slices, salad, baked beans and toasted ciabatta slices. A less greasy version of this would be Big Mama, which features mainly salad, eggs and sauteéd mushrooms.
It's on the drinks menu that Lepaq Lepaq gets a bit more playful. They serve bottled beer like Tiger and Heineken, but order any of their virgin mojitos and you'll be presented with a small cardboard box – poke a straw through it and start drinking from said box (a packaging trend that's apparently popular in Taiwan). But for real theatrics, the Rainy Day Coffee takes the cake. A stick of cotton candy is positioned above a hot cup of long black; the steam from the coffee moves up to the cotton candy cloud and makes it 'rain' into your coffee. Presto, sweetened coffee.
Meanwhile, the nasi lemak cheesecake is a curious combination of glutinous rice and peanuts, with cucumber gelatine, ikan bilis and chilli flakes. Good to know: Lepaq Lepaq makes all their cakes and breads in-house, which you can also buy downstairs to bring home.
Venue name:
Lepaq Lepaq [CLOSED]
Contact:
Address:
687 Jalan Ceylon
Seksyen 57
Kuala Lumpur
50200

Opening hours:
Mon-Fri, 10am-11pm; Sat-Sun, 9am-11pm
Rating Breakdown
5 star:

0

4 star:

0

3 star:

0

2 star:

0

1 star:

2
A shear disappointment , it felt as if I am having budget airline coffee in disposable cups, 12 ringgit for a cup which can hold 200 ml of coffee ! I asked them which brands of coffee they use and the barista doesn't even know, says we mix columbian and ???? coffee together ...what a waste of space and money !!!
Lousy and slow service. Ordered for half an hour then the waiter comes and tell us kitchen close at 1PM and that our order did not make it. And then, tada, it's served on the table.
By 1PM, no more rainy day coffee or rainy day chocolate. The waiter is not attentive enough.
We waited at the table without knowing what has ordered and what is not, until the bills come.
They told us that there is no more rainy coffee or chocolate but other table that comes later than us, they manage to order that.
Total disaster, would suggest not to come here on public holidays or weekend.