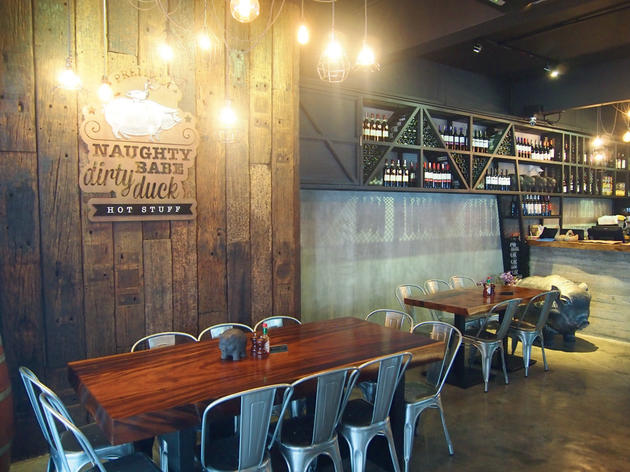 Naughty Babe Dirty Duck is the kind of restaurant you want more of in the city. Interior-wise, it has the trappings of a hip café – salvaged wood panelling, raw brick walls, and pendant lamps with wire frames. But in essence, the restaurant is casual and unpretentious, with a menu that's very straightforward. Food portions are big, and most importantly, it's very reasonably priced. It's the kind of restaurant you don't need an occasion to visit, but when you do, there are long tables to fit a party.

As the name suggests, this is a porky restaurant. Extremely porky. A big majority of the dishes on the menu are pork, in every iteration possible – chops, knuckles, bacon, sausages, skewers and their famous ribs. There's a small amount of duck and one each of chicken, fish and lamb, not counting the salad and soup of course.

We started with the recommended appetiser of Oink and Quack Skewer, in which cubes of pork and duck are skewed (sic) with capsicum, onion and button mushroom. It was a decent dish, but what really transformed this dish was the restaurant's signature dipping sauce – Hot Stuff. A mixture of ground chilli and dark soy sauce (much like the Balinese chilli paste that's used to barbecue chicken or as a dipping sauce), Hot Stuff first imparts a sweet taste before your mouth burns with a fiery spiciness – it's got a good kick.

Our first main, the char-broiled Sakura pork chop, was again a serviceable dish even though the meat was a little tough, but the less starchy sweet potatoes made a good accompaniment. Our second main, the restaurant's famous NDBB BBQ Pork Ribs is rightfully their pièce de résistance. Our half slab arrived on a wooden board, fragrantly charred, and lacquered with a layer of sticky barbecue sauce. It's huge, almost as big as two saucer plates, and it's best eaten with hands as you tear the moist and tender meat with your teeth. It was so satisfyingly good in itself that we forgot that the ribs came with Hot Stuff dipping sauce.

The only gripe we had (besides the restaurant charging for drinking water) was the policy where 'dishes are served without prejudice as soon as they are ready'. Surely it can't be that difficult to organise your kitchen so that the food comes in the order that they should. Our orders all came at the same time, so after we were done with the appetiser and salad, our meat had become cold and the pork chop's accompanying broccoli a tad soggy.

But we're definitely going back, perhaps with a group as the dishes are perfect for sharing. And we'd happily get dirty for the ribs.
Venue name:
Naughty Babe Dirty Duck
Contact:
Address:
Jalan 25/70A
Desa Sri Hartamas
Kuala Lumpur
50480

Opening hours:
Daily, 12noon–12midnight
You may be interested in:
Average User Rating
3.5 / 5
Rating Breakdown
5 star:

1

4 star:

0

3 star:

0

2 star:

1

1 star:

0
I've tried it at both locations and loved it! Their current 3-year anniversary promotion with free bottle of wine is amazingly generous. Great for gatherings with friends and family over a sumptuous meal of European+Asian fusion menu. The servicing crew were attentive and polite. When in doubt with the ingredients on the menu. They took effort to explain the ingredients with patience. Reservation over the phone was a breeze, and we were impressed with the extra gestures by the staff to ensure we have called the correct intended branch.
All in all, this is a place I've always returned for the food.
I have not been here, but reading the first couple of lines of this article really intrigued me, and the picture of the really cool interior, until I read the part about their 'policy'...instant turn off. We have only been in KL for a couple of months now and our BIGGEST peeve is the fat that a lot of restaurants don't wait in between courses, or if and when it comes to the table, the food is cold. If you are in the hospitality industry, I am sorry, that is a big make or break. It is so easy to just get it right.