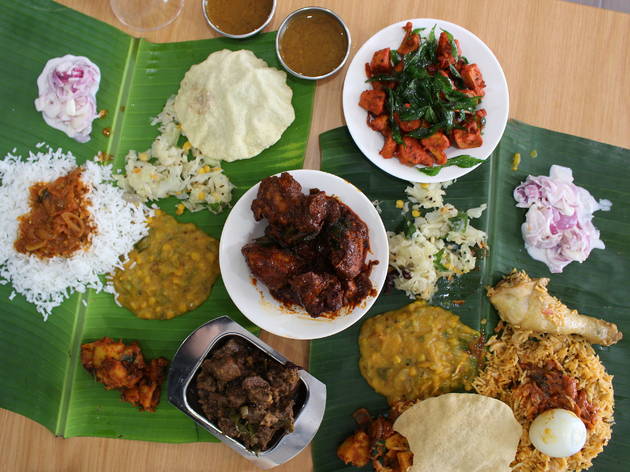 1/3
Photo: Joyce Koh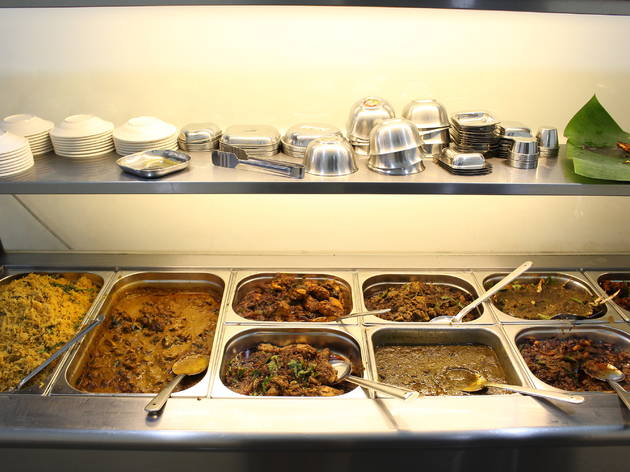 2/3
Photo: Joyce Koh
3/3
Photo: Joyce Koh
Away from the garish veneer of Brickfields is Parambriym, a new-ish South Indian restaurant and a spawn of its mother branch in Chennai. Photos of curries and Indian breakfast dishes dress the wall, all of them painted in studio lighting and fantasy garnishes. But as we always come to discover, the reality is far less embellished. That's to say that this review scratches the surface of a three-star mark, but only barely.

At lunchtime, banana leaves are chauffeured by default to the table. One of the sides is, peculiarly, a watery sambar, which is usually ladled onto rice rather than eaten as a side. The other is deep-fried plantain chips, so dangerously easy to inhale that I polish off my first serving before the rice arrives. The batter, dyed to a brick red with ground chilli, is properly light and crispy with little trace of excess oil. This alone is worth the trip to Parambriym.

From the trays on display, I pick the mutton chukka that is meat cooked into stunning tenderness in a thick, peppery gravy. The bar continues to rise with the chicken varuval, sautéed with curry leaves until very dry and bits of charred masala stick to the chicken. I call these charred masala bits 'spice bombs', tiny eruptions of heat with a bonus crunch. Also a standout is the fish kuzhambu – dark, thick and potent in tamarind.

On my second visit, things take a slight dip with the biryani. The rice is cold and clumpy, a shame for a dish so conspicuously promoted on its walls. But good fortune comes with the onion bhaji, a chickpea flour-battered appetiser that's essentially a lighter, spicier version of onion rings. Parambriym seems to nail its deep-fried items, and it's clear that someone in the back is getting the oil temperatures right. I end with cow's milk tea – sweet, pungent and just the right side of rich to put one straight to sleep.
Venue name:
Parambriym - Veetu Saapaadu
Contact:
Address:
24 Jalan Scott
Kuala Lumpur
50470

Opening hours:
Daily, 11am-10.30pm
You may be interested in: