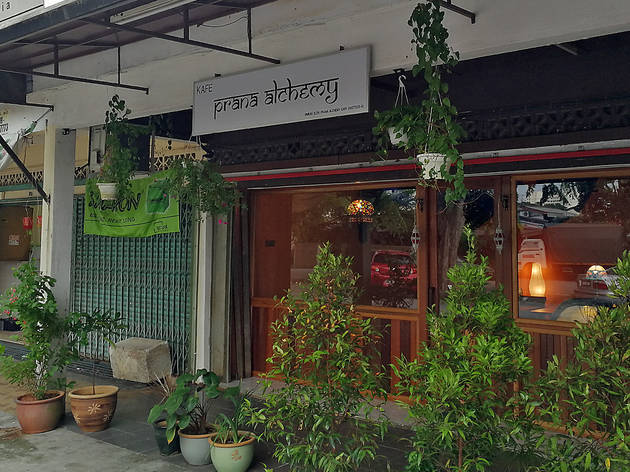 1/7
Photo: Victor Ng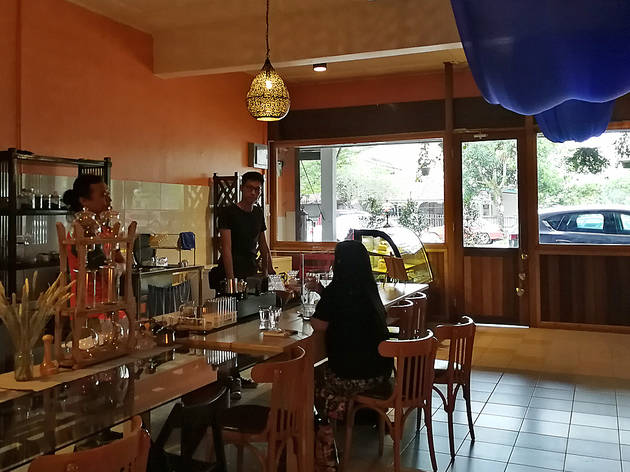 2/7
Photo: Victor Ng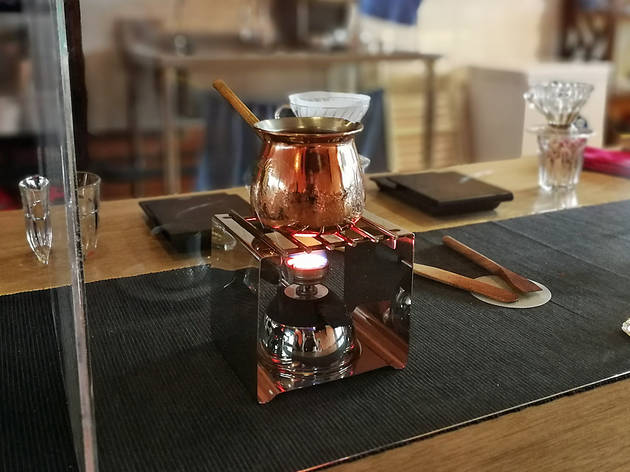 3/7
Photo: Victor Ng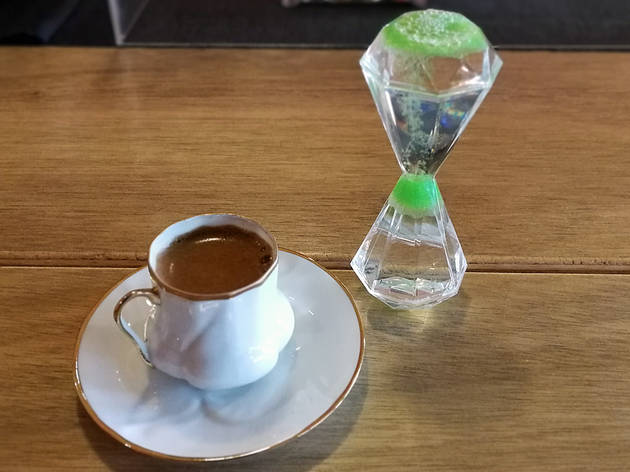 4/7
Photo: Victor Ng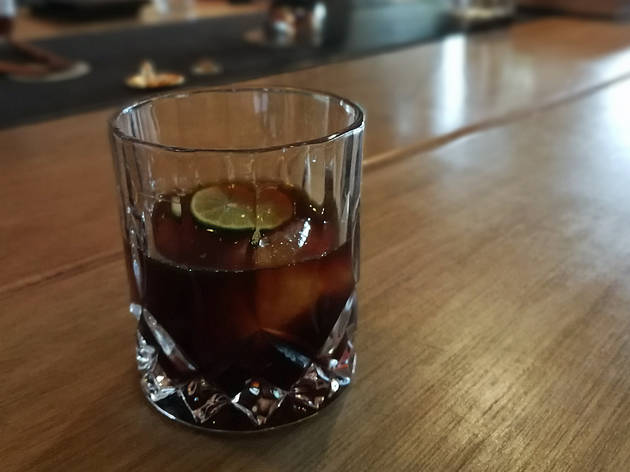 5/7
Photo: Victor Ng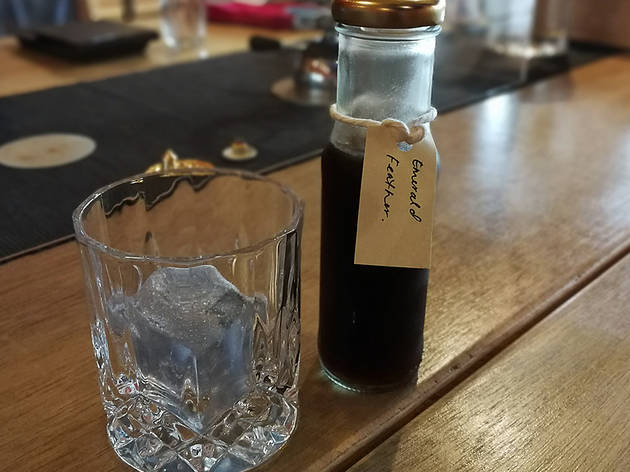 6/7
Photo: Victor Ng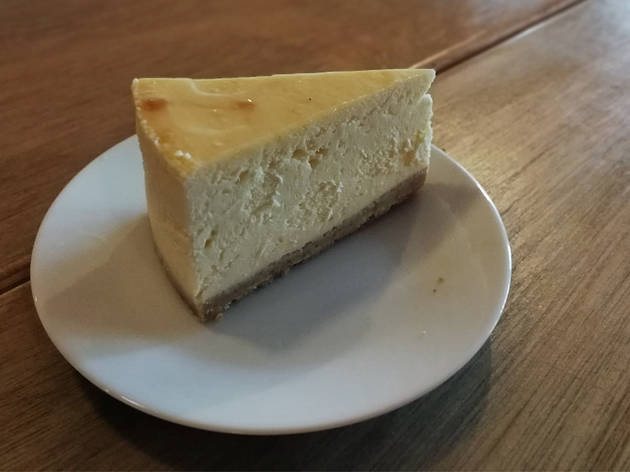 7/7
Photo: Victor Ng
Time Out says
Run by the co-owner of Klang's Seraph Awaken Chun Hoong, Prana Alchemy is a coffee shop offering a compact list of Turkish-style coffees. With Seraph Awaken's success and growing fanbase, Hoong finds it difficult to add new creations onto the café's menu as he worries they won't be able to cope with the demands; hence the birth of Prana Alchemy.
Located in a quiet commercial centre in a residential area in Bandar Sunway, the shop is easily distinguishable with its wooden façade and a smattering of potted plants – you won't miss it considering every other lot along the row sports steel shutters. Inside, there's not much to look at as Hoong focuses on the coffee rather than making this an Instagram hotspot: the rustic cabin-like theme is accented with wooden furniture and a long table that acts as a makeshift coffee bar, while dim lighting adds to the shop's laidback atmosphere.
Prana Alchemy is Hoong's passion project, where he experiments with new coffee ideas. Both him (who's based at Seraph Awaken but drops by occasionally) and barista Andy Chia man the bar here offering two variations of Turkish-style coffee – traditional and 'modified'. They use beans sourced from Seraph Awaken, so you're always getting the freshest tasting cup of coffee possible. If you want something with a kick, go for the traditional Turkish-style coffee (RM12). It's made with a copper ibrik (Turkish coffee pot); but instead of brewing the coffee over hot sand (which is the traditional Turkish way), Hoong uses a gas burner for consistency. You'll have to wait three minutes before drinking – you'll get a nifty timer to keep track of time – to allow all the residue to sink to the bottom. This method of brewing yields a more espresso-like coffee with defined tasting notes; Hoong recommends the Ethiopia Yirgacheffe beans for this which have hints of blueberry, hibiscus, vanilla and caramel.
The other brewing method is the 'modified' Turkish style (RM18) – it's similar to the traditional method, except Hoong uses a larger ibrik and filters out the coffee powder and residue after brewing. This version yields a lighter-tasting product much like pour-over coffee. Hoong recommends this with the Kenya Kiyangi beans; with its relatively lighter mouthfeel, the beans' tasting notes of melon, apple, mint and honeycomb shine through. Note that the beans offered here are seasonal and change depending on what Hoong is experimenting with.
If you're looking for something more complex in flavour, opt for their mocktails. For something sweet, the Golden Phoenix (RM17) is cold-drip coffee poured over honey- and orange juice-infused ice cubes topped with calamansi lime. As the ice melts, the honey and OJ are absorbed into the drink, making it that much more flavourful. If you're familiar with Seraph Awaken's signature hibiscus coffee, the Crystal Violet (RM15) is inspired by it – cold-drip coffee poured over lavender-infused ice cubes.
At the counter, there's a small selection of cakes (RM13 per slice), which Hoong sources from Klang-based Blackstone Bakery, and curates the selection based on the beans available that day. The sweeter and richer cakes are meant to be eaten with lighter tasting coffees, while cakes that are less sweet and less dense should be had with stronger drinks. During our visit, our options included sweet potato with Milo crêpe, classic baked cheesecake and Oreo chiffon cream cake. As Hoong continues to experiment, expect more items to be added to menu in the near future
Details
Best selling Time Out Offers