Ramadhan bazaars: Pantai Dalam
What to get from the Pantai Dalam Ramadhan bazaar
The chaotic atmosphere in this maze-like bazaar is punctuated by long queues, vendors yelling, a mixture of smells and smoke filling the air, and a huge amount of people crowding tight walkways. Here, it's not so much the variety of food you can get but more the quantity as you'll probably find three stalls selling the same thing. Tip: go to the one with the longest queue.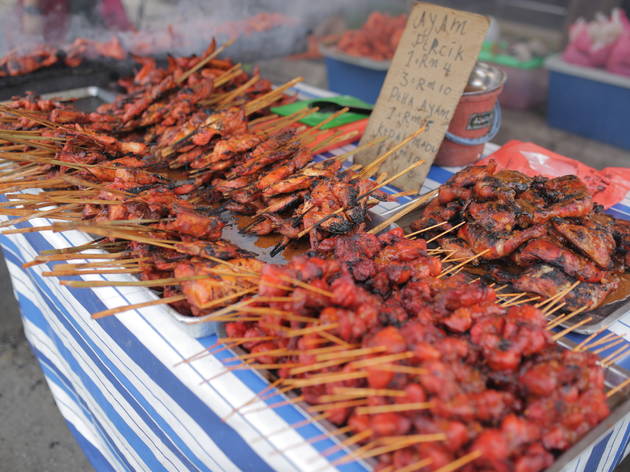 Photo: Bryan Ong
If you can endure the thick smoke that comes from this stall as a result of grilling, you'll be rewarded with tender, juicy and flavourful spiced chicken with a slight char. Dip into the coconut sauce that comes with it.
Photo: Bryan Ong
Watching a whole chicken being slow-roasted above charcoal embers is hypnotising. The chicken here is fall-off-the-bone tender and well-marinated with a mix of spices and sauces. Tip: Peel off the skin and enjoy it separately with sweet chilli sauce.
Photo: Bryan Ong
When it's hot out, all you'd want is a refreshing ice cold drink. The thick mango juice is one such drink. Coming in large plastic packets to share or in individual-sized cups, the juice here is the real thing, not those overly sweet flavoured cordials you sometimes find.
Photo: Bryan Ong
There are a few kuih stalls in this bazaar but this one is the busiest one – with good reason too. This stall offers the biggest selection of freshly made kuih separated by tray. Expect to find favourites like kuih bakar, onde onde, kuih akok, kuih cik mek molek and more.