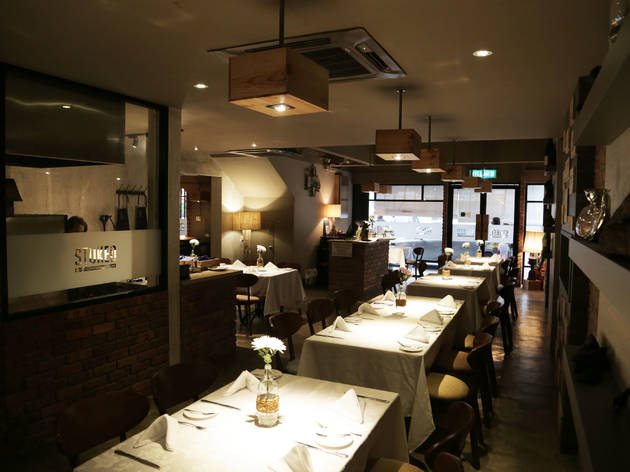 Time Out says
Stoked straddles the middle ground between bistro and fine dining restaurant. There are thick hunks of steak escorted by dainty salads; heaping plates of ribs next to cognac- and port-infused foie gras. I embrace this concept with open arms, because I enjoy the prospect of resting my arms on white tablecloth, pulling apart meat with my hands, while the maître d' fills my wine glass.

A note: Stoked is Vintry Group's newest project, if Vintry's past focus and success is anything to go by. The meal begins with something from the seasonal specials menu, Japanese fruit tomato with Cambodian Kampot pepper and umeshu jelly. It's a starter that tastes far better than it's titled. The tomato is oddly meaty but also remarkably sweet; it achieves the kind of substance that only a vine-ripened tomato can. Meanwhile, the umeshu jelly is so potent in alcohol it blurs my vision in the first five minutes of the meal. My second starter of roasted fennel, orange, ricotta and hazelnuts is also pronounced in its delicateness, but easily overshadowed by the supremacy of a single, properly grown tomato.

When at Stoked, one must order the Ibérico ribs. To divert from KL's fondness of slathering ribs in thick layers of very sweet sauce, Stoked actually cares about the pig. Everything on the plate is pitch perfection – the portion, the char of rosemary in the marinade, the resistance in the meat's fibres. Your enjoyment exponentially spikes by a carefully measured 120 percent when the meat is eaten with your fingers. Here's why: The meat is not fall-off-the-bone, and the best way to get every bit is with direct bone-to-teeth contact. Plus, much flavour comes from (discreetly) sucking on the bone. The pig didn't roll around a Spanish country meadow eating acorns and depositing fat only for you to then butcher it with cutlery.

The Black Angus rib-eye too is great, with streaks of fat running through the meat, its juices gushing out onto the stark whiteness of the tableware. But it doesn't come across as novel an idea as the ribs, only owing to the fact that KL is not short of outstanding steak restaurants. The stubby fingers of properly cooked chips, however, are more a refresher.

You probably wouldn't think of ordering dessert after being stuffed to your capacity with so much protein. Well, think otherwise. Because the sticky date pudding is a thing of beauty. It's deep, dark and nearly aggressive in how delicious it is. You'll want to build multiple fires just to accompany this pudding. I almost forget about the pistachio panna cotta that comes next, but pardon me, for in the presence of cake smothered in toffee, I am at my weakest.
Details